Interview with Various Broken Trail's Cast Members
DIVERSITY
US ASIANS: Could you share your views on the current status of diversity in the entertainment industry along with what do you think needs to be done today?
OLIVIA CHENG: I've said this before and I'll continue to say it again until it's a non-issue: There's a glaringly sad lack of projects and roles to reflect minorities and ethnic diversity in Hollywood. Until more minorities infiltrate the ranks of Hollywood it'll probably continue to be this way. So what needs to be done? We need more storytellers to create powerful material to reflect diversity. More importantly we need people willing to finance the production of those stories. In Hollywood, it all comes down to money -- plain and simple.
JADYN WONG: My view is that the diversity in the industry today is beginning to produce a mixture of ethnicities seen on screen. Although this is a turn away from the all Caucasian cast, the lack of portrayal of minorities as diverse and multi-faceted individuals still is evident in most cases. We hear over and over again how there should be this and that, how this should change, etc., I think that if change is desired, it starts within that culture. For instance, if Asians want characters and stories that convey truth and substance, then let's start writing, directing, producing, etc. our own stories. It's up to us to instigate change.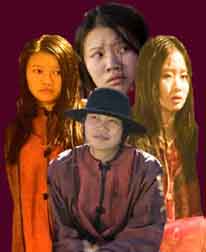 ;
Caroline Chan
CAROLINE CHAN: Diversity in the entertainment industry is definitely getting better. A few years ago, all films involving Asians were all about Kung Fu. Kung Fu is exciting but I'm glad to see a few Asians in supporting and lead roles. The non-stereotypical roles in American films would be the best for cultural diversity in the entertainment industry.
US ASIANS: Recognizing your involvement in "The Magic of Ordinary Days" – could you share your perspective(s) on how American media has portrayed various Asian American experiences (i.e. internment camp) and your viewpoint on being a Chinese/Singaporean women playing a Japanese character – considering the Asian American communities' outrage in "Memoirs of a Geisha?"

GWENDOLINE YEO: Recently I was asked by a Singapore paper what were the pros and cons of being a Singapore girl in America. The pros would have to be that I think I'm a chameleon. I've played Japanese, mainland Chinese and Korean. I've also been raised in a country that's bilingual and given the versatility of weaving in and out of Mandarin and English. The con, I suppose is that I've never actually played a Singaporean. Singapore is so unique with it's amalgamation of culture and diversity. I look at this as a great gift. Diversity has taught me to be less judgmental and more open minded--and it's the only way, with non-judgment, to jump into the skin of a character I am playing. It also forces me to be less myopic about what Asian is. I'm not just Singaporean, I also represent a wider term of simply: Asian. My distinctively yellow skin is something that I wear proudly. It's an asset and becomes an honor, for example, to be able to play a Japanese interned girl. I don't think it comes down to what country someone originated from, but essentially, who could represent the role most authentically from the inside out. Sometimes it's less about skin tone, but by the size of the heart.
US ASIANS: What do you feel is the entertainment industry's current status/attitude/practice of "blind-casting." (Click HERE to read David Henry Hwang's definition.)

VALERIE TIAN: "Long Life.." was my first non-commercial audition after being with an agency for two years already. My only experience in auditions prior to that film was for plenty of Barbie commercials where my competition was generally Caucasian children. In retrospect, however, I think the number of "open ethinicities" roles have increased quite a bit since I started auditioning about 7 years ago. Though, I only really noticed most of this progression recently- within the last 2 years or so.

ROLE MODELS
US ASIANS: Who are your role models in the following areas:


PERSONAL

VALERIE TIAN:
"Jesus is just such a coolio!" - that was a T-shirt quote moment by me
JADYN WONG:
I have a great respect and admiration of those individuals who sought out change and no matter what loneliness or hindrances came their way, it did not matter because they were passionate and driven to succeed. There's too many to list.
ENTERTAINMENT INDUSTRY

VALERIE TIAN:
I've never really believed in the concept of role models in society. I especially don't buy the whole celebrity facade that the media glamorizes to create celebrity idols. It's just business to capitalize on impressionable people's celebrity worship. For example, it's good that mass publicity about charities can be delivered via people on late talk shows. The problem is when viewers or the studio audience that helps justify the hilarity of the show, praise the messenger too much, they aren't fully appreciating the messege. This is because we have always been too infatuated with the illusion of celebrity. I don't think looking up to one person alone is necessary to learn about yourself. We all have our merits and our flaws, so we can't think celebrities fall in the categories of either GOOD PERSON or BAD PERSON based on their image.
CAROLINE CHAN:
Definitely Mr Duvall. Not only is he an A list actor but he treats you so nicely. He helps you and he cares so much for you.
JADYN WONG:

Same answer as above.
COMMUNITY

VALERIE TIAN:
I admire how selfless doctors and teachers are required to be.
JADYN WONG:
Same answer as above
PARTING THOUGHTS
US ASIANS: What three words would you use to describe the following subjects?
SUBJECTS

BROKEN TRAIL

ROBERT DUVALL

YOURSELF

DONALD FONG:

Intriguing

Original

Amazing

Serious

Cordial

Professional

Outgoing

Ambitious

Cheerful

VALERIE TIAN:

Fortitude

Chancy

Fate

Sweet

Caring

Uncle

Eclectic

Curious

Introspective

CAROLINE CHAN:

Trust

Sympathy

Compassion

Talented

Caring

Generous

Energetic

Motivated

Curious
US ASIANS: What do you hope audiences take from this film?
ALAN GEOFFRION: I didn't have a campaign or agenda while writing BROKEN TRAIL. I just wanted to write a good, interesting story. Having said that, the story presents a very topical issue that is still prevalent to this very day. Human-trafficking, child abuse, and sexual slavery are all social issues that plague our society. I would like nothing better than to have people's conscience and sensibilities alerted by this.
Any questions regarding the content, contact Asian American Artistry