Interview with Various Broken Trail's Cast Members
INTRODUCTIONS
US ASIANS: Thank you for taking the time to reveal the many passions, joys, excitement and revelations that directly resulted from your participation with the production of "Broken Trail" - a program that will premiere on the AMC-TV network on Sunday: June 25th and Monday: June 26th. (Visit the film's website, by clicking HERE). We are not surprised at all that a production that directly involves Robert Duvall is thoughtful, thoroughly researched, well-acted and well-produced. He is one of those artists where these things are assumed to be part of everything that he participates in.
What makes this even more exciting is that "Broken Trail" (aka "Daughters of Joy") is a beneficiary of AMC's largest multi-tiered and comphrehensive marketing initiative to date for its first-ever original movie event that will include advertisements in top tier national print, radio and online outlets, as well as local television, print and outdoor coverage in key AMC markets. We have seen the network create an extensive online presence including a Broken Trail mini-site that showed insights into the inspiration behind the story and highlights on the production from screenwriter Alan Geoffrion. We have also seen the Broken Trail's two-minute behind-the-scenes vignettes and :60 and :30 second trailers will run nationally in select movie theatres. Interstitials produced by an onsite documentary film maker with extensive interviews of the cast and crew will also air on the network. This is truely something exciting, especially considering the rare inclusion of a prominent Chinese/Asian historical plotline within a traditional "cowboy movie."
Before we explore what prompted the origins of this project, the process, your participation, the interaction between all the actors and its integration of Chinese history - let's first discover who you are and the different passions that drives you to be in the entertainment industry?
PERSONAL BACKGROUND
US ASIANS: Caroline - how do you balance being a Honor Student, being part of the International Baccaluacate Program, for twelve years taking piano lessons/classical ballet classes and competing in the Vancouver Sun Run – in addition to being a talented actress?
CAROLINE CHAN: I always believe that if you go into something, work at it with 110%. I just wanted to try everything when I was a child and I became passionate about a surplus of activities. When I was selected to be a part of the Broken Trail cast I knew juggling with my IB and acting would be difficult. However, I love acting and I know education is vital at this tender age but I just kept myself motivated and I never gave up. The trick is to have an optimistic focused mind and have great friends, family and teachers who would help you while you're working and flying in and out!
US ASIANS: Donald, since many are not aware of your background - could you share a little about your professional background?
DONALD FONG: I started in the industry broadcasting when I was a student in Hong Kong, about 40 years ago for a period of 10 years. I joined the Hong Kong Repertory Theatre in 1979. During the years as a stage actor, I participated in Chinese productions like KING LEAR, THE TAMING OF THE SHREW, and BUS STOP. I also did some acting for television. However, my career was with International Trading (worked for the Southeast Asia buying office of R.H. Macy's and May Dept. store in 1971- 1974 as Senior Market Representative).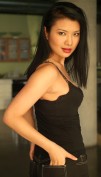 US ASIANS:
Gwendoline - how do you balance/prioritize your time upon graduating from UCLA (summa cum laude), diploma in classical piano from San Francisco Conservatory of Music, winning the Ms. Chinatown USA, CCTV reporter, FOX pilots, WB music countdown show, one woman radio show on NPR-KCRW's "The Politics of Culture," member of Second City's "L.A. Soap," winning two Dramalogue Awards and producing music tracks while being a successful actress?
GWENDOLINE YEO:
Good question. Hard choices needed to be made. I had to be very honest with myself and was humbled at what I learned. You can't do everything because you end up compromising quality in the long run. It became clear that acting was my destiny because I received reinforcement through the kind of jobs I was landing. A wave had begun and I decided to ride the wave that brought me a series regular role on a "Desperate Housewives" and working with Academy Award winner Robert Duvall. At the end of the day, I have to let gut not ego make these hard choices. And as long as I am true to myself, I think I'll be ok on the path forward to even more successes. I also have to say that my strong faith and having God by my side has been essential in all my blessings.
US ASIANS:
Which one of the above-listed passions created the most creative joy within your soul?
GWENDOLINE YEO:
Whatever the passion, the instrument, the medium the context, the people--what is most important is being myself. When I am given the room to be un-edited and fully myself is where I shine and when I am happiest. It might be getting lost in a moment on the Chinese zither, or in a revealing moment of truth looking into the eyes of another actor--you hit the zone.Considering your work in the community and being awarded the 2004 Lorayne Richardson Memorial Award from the Canadian Mental Health Association, what insights could you share on why many Chinese girls committed suicide?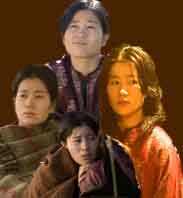 US ASIANS:
Jadyn Wong - could you share how a University of Calgary student with a Black Belt in karate became involved with acting?
JADYN WONG: At first glance, it may seem ironic how a third year business student ended up starring alongside veteran actor, Robert Duvall and the talented cast of Broken Trail. However, I have been preparing for an opportunity like this since the age of 12. I began taking acting class in junior high and continued on through high school. In my mind, I desired to pursue a career in acting and even had plans to relocate to New York after high school.
During this time, I experimented with many crafts including martial arts, dance, singing, and every musical instrument possible in attempt to broaden my skills; I had this mentality that if I wanted to do everything that I possibly could in order to succeed in acting, preparation was one thing that I had control over. However, after graduation, I applied and was accepted into the commerce program at Haskayne School of Business. For two years, I attended University of Calgary. After the first year, I felt uneasy due to the absence of any activity relating to acting. So I re-evaluated what I was doing and decided to contact and eventually signed with a local acting agency. Within six months, I was cast as "Ghee Moon" in Broken Trail.

US ASIANS: What was the experience of working with Mina Shum and Sandra Oh on the film "Long Life, Happiness and Prosperity?"
VALERIE TIAN: LLHP (I call it that to sound hip & happening...), was my first job of any kind so I didn't know what to expect. Sandra and Mina, along with the crew, were amiable and very nurturing so I had nothing to prove, nothing to hide & nothing to lose. That's why I like Canadian sets; there isn't any significant difference between working with Mina and Sandra from working with the crew. Everyone treated each other with the same respect; chill while still maintaining professionalism. Although that production was pleasantly hierarchy-free, this industry unfortunately isn't inclined to ask questions about the underrated crew because it isn't "marketable" enough. *tsk*tsk. It was because of such down to earth people like the crew including Ms. Shum and Ms. Oh (which doesn't occur as much on larger-budget productions), that I now have a higher appreciation of independent film. They created an environment that till this day has made LLHP the most memorable of jobs in my experience. However, I'm only 17, let's see when I become president of planet Mars =o)
US ASIANS: Could you provide the background of the American actors, for those who (AMAZINGLY) don't know about Robert Duvall - along with the other members of the cast?
Thomas Haden Church received an Academy Award® nomination for his role as "Jack" Alexander Payne's critically acclaimed film Sideways, did a voice-over role as the crow, "Brooks," in the re-make of the book, Charlotte's Web and he plays the Spider-Man's latest archenemy in Sony Pictures' Spider-Man 3.

He made his debut in Tombstone, played "Lowell Mather" in NBC series Wings, Ned Dorsey in FOX's Ned and Stacey, George of the Jungle and Free Money.

Alan Geoffrion (Screenwriter) spent a number of years in the publishing business. He attended the University of Tennessee where he took classes in writing but it has only been in the last seven years that he has pursued it seriously.
AMC: "Robert Duvall is the finest American actor in film today," insisted Richard Harris. Starting from sharing an apartment with actors Dustin Hoffman and Gene Hackman - he has done countless memorable theater and television programs.
His illustrious film career credits include Bullitt, True Grit, Major Frank Burns in M*A*S*H, George Lucas' THX 1138, Tom Hagen in The Godfather, Joe Kidd, Francis Ford Coppola's The Conversation, The Godfather - Part II, Network, Kilgore in Apocalypse Now, The Great Santini, Tender Mercies, The Natural, Colors, Gus in the mini-series Lonesome Dove, Days of Thunder, Rambling Rose, Falling Down, Geronimo, Wrestling Ernest Hemingway, TNT original film The Man Who Captured Eichmann, The Apostle, Deep Impact, Gone in 60 Seconds, The Sixth Day, John Q., Assassination Tango, Gods And Generals, Open Range and Secondhand Lions are just a sample of his many performances.
Walter Hill (Director) is recognized as "one of the premiere action filmmakers of the contemporary cinema, a skilled visual stylist whose narrative use of chase and confrontation has produced a gallery of both commercial and critically acclaimed motion pictures over the past three decades." —The International Dictionary of Films and Filmmakers.
His many credits include an Emmy® and a DGA Award for the pilot of Deadwood, Hard Times, The Driver, The Warriors, The Long Riders, Southern Comfort, 48 Hrs., Streets of Fire, Brewster's Millions, Crossroads, Extreme Prejudice, Red Heat, Johnny Handsome, Another 48 Hrs., Trespass, Geronimo: An American Legend, Wild Bill, Last Man Standing and Undisputed. He produced the box office hit Alien, co-wrote the story for its sequel and received a producer credit on all the subsequent films in the Alien series. For television, Hill executive produced the series Tales From the Crypt and Perversions of Science with the distinguished team of Joel Silver, David Giler, Richard Donner and Robert Zemeckis.
Greta Scacchi has been working nonstop after taking a career pause to raise her two children. Her film and theater credits include The Book of Revelations, Jodie Foster's Flight Plan, Kevin Spacey's tribute to Bobby Darin - Beyond the Sea, Alan J. Pakula's Presumed Innocent, Wolfgang Petersen's Shattered, Robert Altman's The Player, Mike Figgis' The Browning Version with Albert Finney, Jefferson in Paris alongside Nick Nolte, "Emma" with Gwyneth Paltrow, François Girard's The Red Violin, Henry Jaglom's Festival in Cannes and Looking For Alibrandi, opposite Anthony La Paglia. Scacchi won an Emmy® for Outstanding Supporting Actress in the HBO feature Rasputin, opposite Ian McKellen and Alan Rickman in 1996.