Interview with Various Broken Trail's Cast Members
PROJECT'S BEGINNINGS
US ASIANS:
What was the genesis for the project?
ALAN GEOFFRION: I developed the story idea for BROKEN TRAIL in 2003. I was on my way to Alberta to work with legendary actor Robert Duvall on the feature Open Range, when Duvall suggested I visit the Haythorne family at their ranch in Ogallala, Nebraska. There, Waldo Haythorne described how his grandfather, Walter, took 700 horses from eastern Oregon back to the Rosebud Reservation in South Dakota. This rich episode, coupled with my fascination with both the role of minorities and the amazing strength of women in the Old West, formed the core of Broken Trail.
Duvall had been trying to get me in front of the keyboard for some time, so when these threads of the story came up during a visit we had together, Duvall urged me to craft them into a screenplay. At about 8:30 a.m. the next morning I got a call from Duvall asking him how much I'd written. I knew then I'd better get serious about it.
In my research of the Old West, I discovered the forgotten stories of Chinese women who were sent to America by their families to obtain work to ensure a better life in the land of opportunity. Unbeknownst to the women, and hindered by a language barrier, they became enslaved into prostitution by Chinese slave traders in the mining towns of the Old West.
In addition, I researched the life and work of Donaldina Cameron, who ran a shelter in San Francisco for these victims during the early 19th century. I then decided to weave this tragically historic tale into the screenplay about two cowboys on a horse drive, thus setting it apart with a unique angle for a western. What started as a short story morphed into a screenplay and took one year to complete.
Alan had been asked if this script was based on actual story. He stated that everything was either from a private diaries, correspondences and letters.
In developing the plot, I wanted to write a story that told a little bit about the immigration of these young Chinese women, but not from the Eurocentric perspective. I wanted to tell the story through these characters and share some of the history through the women. People will ask, "Is this a true story?" And I say, "It's a lot of true stories."
US ASIANS: What makes this an interesting and relevant subject for a film?
ALAN GEOFFRION: There has not been a major movie in Hollywood that addresses the historical accounts of importing and enslaving young Chinese girls as prostitutes in the mining towns of the American Old West. Through the passage of time, their stories have been virtually forgotten. I hope that with BROKEN TRAIL, I am able to share some the history behind what happened in the Old West.
US ASIANS: What were your biggest challenges?
ALAN GEOFFRION: My biggest challenge was handling the storyline with authenticity and sensitivity. Historically at that time, the Chinese were reviled in America. The men were coming over to build railroads and most of the women were forced to leave China against their own will. Families were selling their daughters to get enough money to try to feed the rest of their family. In the end, it is a very sensitive subject and I had to be very careful depicting the Asian culture in the script. I needed to make sure that all the cultural elements were in place. As a white male, it was definitely a challenge for me.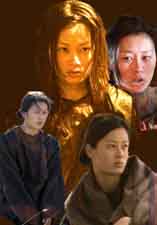 Before Broken Trail, none of the actresses playing the Chinese girls was aware of the forced prostitution among Asian women, a tragic episode in the history of their culture in America. "It's a shameful secret," says Olivia Cheng, "but it happened." Cheng, who plays Ye Fung, researched the period extensively. "I didn't know too much about the social climate of the time and I thought it was important to know the world we were stepping into, the world we were trying to create," she says.
"When I read the newspaper columns of that era, I found that the Chinese were so hated. The social hierarchy was Caucasian, black, Mexican, and down here in the negative were the Chinese. In the newspapers of the time, they are referred to constantly as disease-ridden, filthy, superstitious, evil people. A lot of people felt that the Chinese were evil because: how could they sell their girls into a life like this? The truth of the matter is that so many girls were the victims of poverty and their parents believed they were selling their daughters into respectable service."
US ASIANS:
How did the Asian cast feel about the film and depiction? Were they able to offer input
?
ALAN GEOFFRION: When Olivia Cheng was alerted about this film, she assumed she would be playing another stereotypical Asian role. After reading my script, she became very drawn to the story. All five young women felt that the film was an important project for the Asian American community because it is so steeped in historical context.
While filming, I asked each of them for their input on how to make the story as authentic as possible. They offered great suggestions in which I was able to incorporate into the script. In keeping to the authenticity of the times, I did not want the women to speak English and I wanted to keep subtitles to a minimum. I felt that what they said and did should be a mystery to the audience as it is to the other characters. Their acting would speak for them. I wanted the actresses to develop their individual characters. I always knew they were going to be the secret weapon in the story. They are as much a part of this story collectively as they are individually.
TELLING THE CHINESE IMMIGRANT STORY
US ASIANS: Recognizing that the project drew upon your family histories, while acknowledging your previously limited knowledge of this "shameful secret" part of history, could you share what invaluable insights/perspectives/opinions/feelings was learned as the result of your participation – also recognizing the different histories of Chinese in Canada versus the United States?

VALERIE TIAN: I already had some vague, historical knowledge of girls like my character Ging Wa, prior to getting the role. What I did learn more about when doing this project, was of the psychological complex trauma that would affect these girls. I learned about how the gritty things that happened to them, such as rape and violence, would make them feel. I was able to empathize with these characters and compare their humanity to mine. This made me realize and wonder if girls in today's sex trafficking, along with prostitutes, may be in a worse situation than 100 years ago. I watched a documentary recently, where a former sex slave said that in the 1960's, girls like prostitutes and such would usually get shot, but today girls will be stabbed, shot, mutilated, and hurt by other creative ways of torture.

CAROLINE CHAN: Since the phone call to audition for the first time on Broken Trail, I became so emotional over my family history. It was a part of history I only heard a bit from school and parents. The Chinese women were known to be the lowest of the low. They were bought and raped. The ones who were pretty and the ones with the bound feet were more valuable to the brothel owners. Their parents could not provide for their daughters and so they had no choice, just the hope of bringing these Chinese girls to America to be married to awaiting Chinese merchants in America. However, these girls were only looked down upon and relied on each other. Being shipped to the opposite side of the globe, having a language barrier, being incredibly young and not knowing who to trust reflects the life of an innocent Chinese girl in America in the late 1800s. I am lucky I get the opportunity to experience a taste of what my ancestors were faced with. I felt like I was in the late 1800s especially when we were doing the wagon scenes.
HISTORICAL FOOTNOTES
1909 Mission Home records showing that the rescued girls were about one-third Japanese.
Influenced heavily by missionary reports and the wish to "modernize" China as the "White man's burden," and because many Chinese immigrant women were brought to the U.S. to be "hundred men's wives", the working class woman's image, especially that of the prostitute, dominated the American West.
Lucie Cheng (author of "Free, Indentured, Enslaved: Chinese Prostitutes in 19th Century America") disagrees with Cameron's claim made in 1898 that she rescued 3,000 Chinese women, considering the mission home records showed only 600 Chinese women.
"I have to admit, I was ignorant of this history until this project was brought forth to me. I started researching the historical context in which it was based. I didn't even know that this was something that actually happened to thousands of girls, in fact, still happens today with global sexual slavery and women and children being enslaved around the world." (Gwendoline Yeo)
GWENDOLINE YEO:
The allure of America. The allure of the American dream. The Chinese American Immigrant story--was both relevant then, and now. The movie is about the Chinese sex slave trade spurred by the Tongs during the building of the railroad by coolies, executed through San Francisco "Gum Sun", "Gold Mountain" in the context of the American western. I myself, a hundred years later, immigrated as a teenager from Singapore to San Francisco. The experience sent chills through my spine. I walked the same hills as some of these girls did. And the most powerful of all -- I won the Miss Chinatown USA pageant which was based in San Francisco. I was also Miss Teen Chinatown San Francisco.
To think, that if I had come a hundred years earlier, I wouldn't have won a crown, but be subjected to such pain--forced into marriage or prostitution, or be simply, dead. I feel like the luckiest girl in the world, but also my heart is heavy at that history--and I took that pain and history into the work. It was a lonely time shooting on location in a foreign land (Canada). I took a bit more of a method approach--and really experienced the isolation and the weight of responsibility in this young girl. Because at the end of the day, the work is most important and I only hope I did my best in accurately portraying the pain, suffering and most importantly the strength in this woman of Sun Foy.
JADYN WONG: The most invaluable lesson that I take with me after filming Broken Trail is one that has lead me to embrace my culture and my ethnicity in an entirely different light. Having been born and raised in a small city in Alberta, the mentality that I adapted and lived by resembled entirely of a western perspective. Through research I gained a respect for my ancestors and the culture I had been ignorant to accept as my own. When I began filming, I was ashamed due to my lack of awareness. My participation in this project has opened my eyes to see the common ground between ethnic groups; humanity shared amongst borders. Regardless of language barriers or cultural differences, compassion and humanity ultimately reveals itself as the weapon in overcoming all obstacles. That is the basis of the story.

When I first heard about the project, I was wary. Here we go, another Hollywood project where the Asian characters are reduced to one dimensional human beings and not given the chance to show that they are damaged people. I did not want to be a living prop. When I realized that we were essential to the story and we could be normal "little" girls, I wanted to play Yee Fung with dignity. I wanted her to be a human being. The tone of the movie let me know I could do that.
(Olivia Cheng)
Any questions regarding the content, contact Asian American Artistry