In a time where President Obama is utilizing "Basketball Diplomacy" as a means of cultivating a stronger relationship with China - as noted by Secretary of State Hillary Clinton choosing China as part of her first overseas trip, in addition to summits in the United States and China- Tim Chen has led the NBA's successful "Basketball Diplomacy" in China resulting in all parties receiving tremendous benefits such as the NBA tapping into the previously untouched base of passionate consumers/fans of basketball while satisfying the need of Chinese consumers of being part of a form of self-expression and creativity that NBA-style basketball makes possible. Despite the fear that NBA China is the "Americanization of China" and the various obstacles of successfully incorporating the America's NBA lifestyle within the China culture, the road appears to be paved in gold for all parties concerned.
As a result - our conversation with Tim Chen - the CEO of NBA China - will be to discover why basketball are so successful, along with finding out what their future plans are. With 300 million people playing basketball, 83% of people ages 15-24 saying they're NBA fans and 20% of traffic to NBA.com coming from China, basketball is rapidly growing in popularity. The NBA has nurtured its growth via its relationships with 51 TV stations that provide NBA programming to more than 2 billion viewers. To nurture and satisfy the consumer demand, the league maintains marketing partnerships in China with 20 of the world's leading brands and makes products available to fans in more than 30,000 locations. Currently the NBA (spearheaded by the leadership such of NBA executives such as Gail D. Hunter) is conducting more than 170 special events in 112 cities in Greater China including the NBA China Games 2007 - along with the other activities listed below.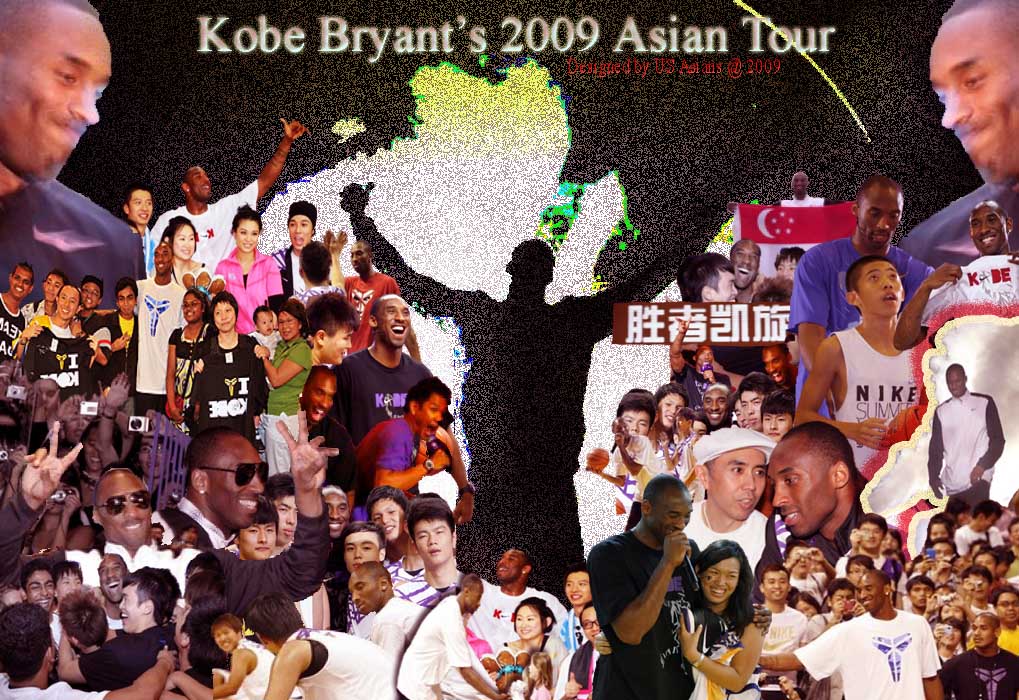 Kobe in China - Click
HERE
for more info on his success in China
With the NBA utilizing its formula that has made it successful in the U.S. and internationally in China with the introduction of American style entertainment arenas
(via its partnership with AEG and the Chinese government)
, and American style reality shows
(along with other similar programming from corporate sponsors such as Nike with athletes such Kobe Bryant)
that encourages American style cheerleading and streetball competitions, Tim Chen's latest challenge is to successful incorporate within the Chinese culture the NBA's flash, attitude, and style that will challenge China's deeply rooted historical and cultural ties toat often times prevents from globalization from having too much influence.
With Tim Chen's success of working with the Chinese government while he was working with Microsoft, his leadership (along with the support of NBA China's investors such as Walt Disney Co.'s ESPN, an investment unit of Bank of China Ltd., Legend Holdings Ltd., China Merchant Group and Li Ka Shing Foundation) have provided NBA China the greatest opportunity of addressing the Chinese government's strategies in preventing globalization/Americanization, imitating a capitalist economic model and distate of adopting Western political systems and core political values while highlighting that globalization's are potentially much more significant than the disadvantages.
NBA China's opportunity for explosive growth is currently available since China is one of the nations that has taken most advantage of globalization. The Chinese government's embrace of globalization has been seen in events such as the recent highly successful Beijing Olympics and the upcoming World's Fair Shanghai. NBA China's investment and long-standing commitment, through the 12 arenas that the NBA will building with AEG, will bring provide many opportunities for China's underdeveloped entertainment industry while highlighting the intersection of sports and entertainment.
The NBA has continued its success on the marketing of individual players (i.e. Kobe Bryant, Lebron James, Shaquille O'Neal, Yao Ming, Baron Davis, Chris Paul, Ron Artest, etc.), NBA teams and players have recognized the need to go beyond the traditional marketing strategies to secure and maintain a true following in China. The requirement to go beyond a simple brand association often include visits to China, donations in times of disasters (like the Sichuan earthquake and other examples that are listed at the bottom of this article), participation in grassroot programs and camps, China oriented charities, and special attention to the Chinese people are needed to sway Chinese consumers. This opportunity was made possible by the NBA investing in China for years. When David Stern first came to China some decades ago, he practically paid China to air its NBA games on national television.
Another key factor in NBA China continuing its successful "Basketball Diplomacy" might be Tim Chen and NBA China's ability to balance and/or integrate Chinese values such as Confucianist beliefs of dignity and humbleness with NBA's "In Your Face" attitude, trash-talking and hip-hop culture in the Chinee marketplace.
What is the NBA's long-term vision in China?
We see basketball as not only a sport here but really a lifestyle. Something like 300 million people participate in basketball. With Yao Ming and Yi Jianlian playing in the NBA, we see that as a bridge to making basketball as being a part of everyday life in China. We think the key is to work with the Chinese government to develop basketball in China. There's also business opportunities other than TV. We have online, sponsorship, merchandise. We also started our own stores. We have two stores and hope to have more.
You talked about working with the government, which is said to be critical in China. How do you do that when the CBA already exists here and you're talking about creating another league?
We and China Basketball Association have a long-term history. Even last summer Team China was in Las Vegas working in the summer league. The best way to summarize our relationship is the way that David Stern did at a press conference. He was asked the question, "Would you like to have a league in China?" Mr. Stern answered very well: "We would like to have a league, but only with the China Basketball Association."
Tim Chen
(who became interested in basketball while studying for an executive M.B.A. at the University of Chicago and started rooting for the Chicago Bulls)
has received many compliments such as
"Tim Chen is a proven business leader who has guided the dramatic growth of two Fortune 100 businesses in China,"
said
(NBA Commissioner David)
Stern.
"Tim is the ideal person to lead NBA China as we expand our infrastructure and operations to meet the growing interest from fans and consumers throughout the region."
Heidi Ueberroth
(NBA President of Global Marketing Partnerships and International Business Operations)
, who led the recruiting process said,
"After an extensive search that produced many qualified candidates, Tim Chen was the clear choice based on his tremendous experience and accomplishments. Tim will assume leadership of a very talented team of NBA employees based in China including Mark Fischer, who will be promoted to Senior Vice President . . . . . . . Certainly his technical background we think is a great fit in our new media and digital area."
His appointment as Chief Executive Officer of NBA China, starting from October 15, 2007, resulting from his past achievements that included being the Corporate Vice President of Microsoft Corporation since September 2003 (whose responsibilities included overseeing overall Microsoft business operations and strategy in China, including a unified strategy that includes all Microsoft® business units operating in China as well as governance across all Microsoft businesses operating in Greater China), President of Motorola (China) Electronics from September 2001 to 2003, CEO of 21CN CyberNet Corporation overseeing their business in Hong Kong/Mainland China and other positions (i.e. Bell Labs arm of Lucent Technologies, Director of LSI Corporation, etc.) prior to receiving his MBA from the University of Chicago (in addition to holding two Master's degrees in Computer Science and Mathematics from the Ohio State University, Columbus)

INTERVIEW
US ASIANS: At this time, I would like to personally thank you for taking time out of your busy schedule to answer a few questions on why NBA China has been successful under your leadership while displaying why Heidi Ueberroth and Commissioner David Stern has so much confidence in your ability to bring even greater profile of the NBA throughout China.
REGARDING YOUR APPOINTMENT AS CEO TO NBA CHINA
US ASIANS: Which one of your many unique qualities and abilities as a past Motorola executive/Microsoft China CEO with extensive experience of working closely with the Chinese government and business community will and/or have provide the greatest impact of your success with NBA China?
TIM CHEN: Experience has taught me the importance of having good communication with the company's headquarters and having knowledge of the local market. We think globally but act locally.
"The NBA is a truly exceptional brand with a huge fan base that reaches across all parts of China," said Chen. "I'm thrilled by the scope of this opportunity and the ability to work with such a talented team, as we build on the enormous business potential that spans media, merchandising, marketing, events and new initiatives."
We are also starting to do more customized programming and more lifestyle-based programming as a natural next step, which makes sense for a country like India, where pop culture and Bollywood are very popular and there is a natural crossover between our iconic players and entertainment. We had a number of Bollywood stars over at the All-Star Weekend in Phoenix, and we created some behind-the-scenes All-Star Weekend programming that aired on [Star Sports].
Note: Bollywood's Lara Dutta (Miss Universe 2000) and actor Dino Morea filmed a NBA special for ESPN Star Sports (India) in
Los Angeles.
Heidi Ueberroth
MARKETING
US ASIANS: Could you share the upcoming plans of Dan Mintz's Dynamic Marketing Group (DMG) in creating its first brand campaign (TV, print, outdoor and online) especially since it has worked with Nike (w/Kobe Bryant and LeBron James), along what distinguishes these campaigns of Weiden + Kennedy?
TIM CHEN: We are working with DMG to help us to design the ad campaign for our upcoming NBA Games in Beijing and Taipei.
DMG is China's largest media and entertainment busines. It's a a full-service agency specialising in making international brands a success in China. They are Greater China experts and the bridge into China for international brands based in the UK, Germany and the USA. DMG understood the unique cultural challenges of the Chinese market and has the bespoke tools to help international brands that want to be successful in the world's most populous nation. Dan's knowledge of the China market, its culture, politics and business has also seen him appear on BBC World and recently DMG was voted one of the World's Leading Independent Agencies by Campaign magazine.
Click HERE for more info.
US ASIANS: Acknowledging your words "The Americans are seen by local governments as the sort of people they'd like to have on their teams to help manage stadiums" – could you share the invaluable expertise they will provide to the venue and the supporting local staffs?
TIM CHEN: NBA and AEG are both global brands. The NBA is a global leader in the development and growth of basketball. AEG is the global leader in arena development. We will work with local developers and every level of government to create state-of-the-art sports and entertainment arenas that will anchor communities and further solidify these cities as the cultural centers of China by hosting a wide array of live entertainment and sporting events.
"Tim Chen is a proven business leader who has guided the dramatic growth of two Fortune 100 businesses in China," said (David) Stern. "Tim is the ideal person to lead NBA China as we expand our infrastructure and operations to meet the growing interest from fans and consumers throughout the region."
US ASIANS: Could you expand on the NBA's long-term vision in China that includes identifying a NBA lifestyle, working with the Chinese government to develop basketball in China, growth of the middle-class fans, merchandise sales, increasing the level of basketball talent, non-television opportunities (i.e. online, sponsorship, merchandise), securing partners and the NBA Stores (projected to be around 1,000) – along with effectivelly handling the growth?
TIM CHEN: The NBA has been growing its business in China for thirty years and we have a long term commitment to growing the sport and giving back to communities in China. We will continue to work with our partners to bring fans closer to the NBA through games, community and grassroots events, merchandise, television, and technology.
US ASIANS: NBA may benefit from China's stimulus package" (Bloomberg reported. China's US$585 billion of extra spending includes funds for sports-related infrastructure, leading local governments to approach the NBA about managing future stadiums) – given these current historic economic times, whhat is the current status of the benefits?
TIM CHEN: "The Chinese economy as a whole continues to grow despite the current global economic slowdown. The government has issued fiscal policies that aim to boost spending and increase employment including a package of stimulus money into various sectors of the economy. This has an overall positive impact on the sports industry, as the interest for sports and entertainment is still very strong. A lot of infrastructure is being built and a lot of governments are looking at building arenas, not just for sports, but for culture and entertainment. This is a positive signal for our business."

REALILTY SHOW PROGRAMMING
US ASIANS: Could you share how much the "Mengniu NBA Basketball Disciple Reality" had exceeded expectations?
TIM CHEN: We are very pleased with the show. This reality show is a great example of how we work with our partners to engage fans and grow the game of basketball.

Information on the Mengniu NBA Basketball Disciple Reality Program

Mengniu and Shandong TV worked together with producing the NBA's first-ever reality show called Mengniu NBA Basketball Disciple. Mengniu (one of the China's leading dairy products company that manufactures and distributes a diverse range of liquid milk products throughout China, Hong Kong and Macau), an NBA marketing partner since 2007, will be prominently featured throughout the series via onsite branding, product integration, media and promotion. Shandong TV will promote the reality series with nearly 2,500 promos and Public Service Announcements from April 2 to Aug. 28.

The reality show will follow a three-month basketball competition that begins with public tryouts in 64 cities throughout mainland China. The players will compete in a variety of skills competitions and be awarded points based on performance over the course of four rounds. Following a final All-Star Game in the last round, the player with the most cumulative points will be crowned the Most Valuable Player of the competition and win an all-expenses-paid trip to the United States for a tryout with a team from the NBA Development League, the NBA's official minor league. NBA Legends and scouts, along with an NBA coach, will appear throughout the series to run competitions, evaluate players, award points and determine which competitors advance to the next round. An NBA mascot and dance team will be onsite to provide entertainment for NBA fans. Shandong TV Satellite Channel aired 50-minute episode every Friday from May 22 to August 21 at 9:30 PM local time. A final 90-minute awards ceremony show aired live on August 28 and feature Chinese celebrities as presenters and performers.

The basketball competition will consist of four rounds:
Round 1: Public "Open" Tryouts: Aspiring basketball players 18 years and older who are not currently under professional contract in each of the 64 cities are invited to come participate in a basketball skills challenge. The participants will be awarded points for their performance during dribbling, shooting, layups and defensive drills. The top 50 to 60 participants, based on points, in each city will advance to the second round.
Round 2: Preliminary Round: A series of one-day elimination events will take place in ten cities attended by an NBA scout in each market. The scouts will help select two to three players in each city and 24 total participants will advance to the third round.
Round 3: Training Camp: An NBA assistant coach and NBA legend will host a vigorous three-day NBA-style training camp for the remaining 24 participants. The coach and legend will assign points for different drills including passing and rebounding, offensive concepts and transition, strength and conditioning, shooting, ball handling and defensive concepts. The top 16 participants will advance to the final round – an All-Star Game.
Round 4: All-Star Game: The eight finalists from southern China compete against the eight finalists from northern China in an All-Star Game. The player who has accumulated the most points throughout the entire competition, following the All-Star Game, will be named the competition's Most Valuable Player and win a D-League tryout.
CHINESE BASKETBALL ASSOCIATION
US ASIANS: Acknowledging Heidi Ueberroth's words "The NBA has received tremendous support from the Chinese Basketball Association, the sports authorities of Shanghai and Macao, and the Venetian Macao Resort Hotel in order to bring NBA teams and competitions back to China" – what is the latest updates, considering these historic economic times?
TIM CHEN: We feel fortunate to have tremendous support from our fans and partners. We have just announced together with the Beijing Municipal Bureau of Sports that we will host a pre-season game in Beijing when the Denver Nuggets and the Indiana Pacers tip off at the Wukesong Arena on Oct. 11. The game will mark the opening of the refurbished Wukesong Arena, formerly known as the Beijing Olympic Basketball Arena. This will be the NBA's eighth preseason game played in Greater China and the third game played in Beijing.
IN PARTING
US ASIANS: Tim, thank you for taking the time of answering the above-listed questions.
NBA China Games in Beijing

Denver Nuggets and the Indiana Pacers will play each other on

October 11th

at Beijing's 12,022 capacity Wukesong Arena – one of the first "NBA-ready" arenas in China. The two teams will travel along with their cheerleading squads and mascots to provide the full NBA experience.

Peak Brand Tour w/Jason Kidd

Lucky fans in Beijing, Shanghai, Guangzhou, Chengdu, Chongqing, Shenyang saw one of the NBA's most succesful point guards of all time, Jason Kidd of the Dallas Mavericks - along with Shane Battier and Ron Artest during the

Peak Brand Tour.

Baron Davis & Jose Calderon on Li Ning Tour

These two players were here as part of a

Li Ning sponsored July 2009 tour.

Baron plans to make a documentary with his own movie company regarding Sino-US basketball culture and on the cultural bridge that basketball is helping form between China and the US.

NBA Jam Van

NBA's

interactive touring activity

for fans to get closer to the game they love is touring in China. From the official site: It allows basketball fans of all ages to show off your best basketball skills on 7', 8', 9' and 10' rims. This Chinese version will be slightly different from it's US equivalent, with Lenovo replacing key partner Wrigley's in China.

Shaq " Big Shark" ("Shaq-Fu") in China

Completed a tour of the Shaolin Temple in Henan - the birth place of Kung-Fu because he would like to learn more about Kung Fu. tyle kung fu.

Shaq's ties

include Li-Ning, China's largest and most succesful sports apparel brand while being one of the most recognized and loved foreigners in China.

Chinese Sponsors Are Sought
Washington Wizards headed to China this offseason in search of sponsors. The financial crisis that has severely affected most sports franchises have motivated teams to explore the world's largest basketball market that is relatively untapped.The number 1 foreign import that Chinese people can associate with is sports.

NBA Reality TV Show in China NBA reality show

in China called

"Mengniu Basketball Disciple"

is a 45 minute show that talks about professional basketball players, they do drills, get evaluated by the American coaches, participate in contests and games, and in the end players are voted off by the coach in charge and one MVP is chosen Click

HERE

to watch videos.

NBA Partners with Tsingtao Beer

Partnership described as a multiyear sponsorship where China's largest brewer will fund sports and dance competitions related to the league.

Tsingtao

will sponsor a nationwide search for an NBA China Dance Team, help finance basketball tours in the country and assist in an All- Star Game balloting system.

NBA's First Game in Taiwan
First game in Taiwan will be played on October 8th with the Denver Nuggets and Indiana Pacers playing each other at the venue that seats 12,874 people. Taipei will become the seventh Asian city to host an NBA game, following Beijing, Guangzhou, Macao, Shanghai, Tokyo, and Yokohama.

Take-Two's NBA Online Game In China Take-Two Interactive

is entering the online gaming arena by partnering with Chinese internet and gaming portal Tencent by launching the best-selling NBA 2K sports franchise in China.Chinese online gaming market grew by 61 percent last year to reach $2.75 billion in revenue.

Ron Artest Supports Chinese Teenager

Los Angeles Lakers star

Ron Artest

donated his $45K (300K yuan) diamond watch to a high school student (Zheng Fengyu, 15,captain of Wuhan #1 middle school's basketball team) in Wuhan to support his education.

Kobe China Fund donates $5M Yuan to CSCLF Kobe Bryant China Fund

(established by CSCLF and the Kobe Bryant Family Foundation on June 30, 2009) has raised a total of 42 million yuan ($6.15 million) from various enterprises and will first donate five million yuan ($732,000) to children in quake-hit Sichuan province.