Asia Society Southern California
A nonprofit, nonpartisan educational organization, Asia Society provides a forum for building awareness of the more than thirty countries broadly defined as the Asia-Pacific region - the area from Japan to Iran, and from Central Asia to New Zealand and the Pacific Islands. Through art exhibitions and performances, films, lectures, seminars and conferences, publications and assistance to the media, and materials and programs for students and teachers, the Asia Society presents the uniqueness and diversity of Asia
Founded in Los Angeles in 1985, Asia Society Southern California is an independently funded regional Center that creates its own programs and activities. Home to the largest Asia population in the United States, Los Angeles is a vibrant microcosm of Asia and American relations. Click HERE for more info on Asia Society
IN 2006, KOBE BRYANT changed the number on his jersey from "8" to "24." In addition to the past reasons that Kobe has attributed to the change, it could signified that he will work 24 hours a day (7 days a week, as he shared in a CCTV interview) on the second part of his career, as a new beginning of the next stage of his exciting role as a "Cultural Ambassador" between China and the United States. Since "8" is generally assumed as a sign of good luck – "24" could be another indicator of his future success and good luck (threefold - noting that "24" consists of three "8s") - in the NBA (additional championship rings), the United States (via his involvement in community affairs through his continued participation in the below-listed "After-School All-Stars" organization) and in China (as a philantropist to tap into the Chinese government's growing interest in promoting charity via his involvement to raise monies with the below-listed renown Soong Ching Ling Foundation) that strengthens the relationships between the United States and China.


Listen to an extended CCTV interview with Kobe Bryant by clicking
HERE
.
At the third APEC Business Advisory Council (ABAC) SME Summit and Alibaba.com-Taobao "Net Products" Trade Fair, Kobe will be talking to Jack Ma about the requirements of success on September 11th at 11:30 A.M.)
Click
HERE
for more information
ACKNOWLEDGING KOBE BRYANT'S SUCCESS in the NBA and the United States – his commitment to creating good and understanding between the United States and China progressed to another stage through his newly-created Kobe Bryant China Fund's collaboration with China's Soong Ching Ling Foundation (SCLF) that was made confirmed at the "Official Signing" at Asia Society Southern California's 2009 Gala Dinner Fund-Raising Dinner at the Beverly Hilton Hotel with the attendance of President of Staples Center Timothy Leiweke, Minister Liu Peng of China's General Administration of Sports and President of the Beijing Olympic Committee and Mr. Huang Yuejin – the Vice-President / Party Secretary of China Soong Ching Ling Foundation. At the Asia Society Gala Dinner, Kobe Bryant was presented by Asia Society Southern California Chairman Donald Tang with the award of being the organization's "Global Ambassador" because of his deep commitment of creating good will and understanding between the U.S. and China. Timothy J. Leiweke (President and CEO of AEG, the Los Angeles-based company that owns Staples Center) received Asia Society's "Global Corporate Leadership Award." Kobe Bryant stated that night "This honor is huge and special because it's global . . It's about bringing basketball and having a connection outside the U.S. and doing it all in a positive way." This well-executed Scott Mauer-produced and directed event was emceed by TV's renown television sports announcer Jim Hill and coordinated by Deb Jordan. Within the short 3 weeks of preparation for the event - Scott Mauer successfully addressed the massive onslaught of the Chinese media (given the immense interest and popularity of Kobe Bryant in China), the logistics of the arrival of prominent Chinese officials from China, directing a program involving people from various languages (English and Mandarin), coordinating the various performing acts, the various entertainment/sports celebrities, working with AEG management and professionally addressing all of Kobe Bryant's needs. The night was sponsored by AEG and others companies that included known auctioneer Tere Morris making successful the event's "Silent Auction" via the top two items - watch and jewelery donated by Nubeo - bringing in $100,000, along with the monies from all the other items.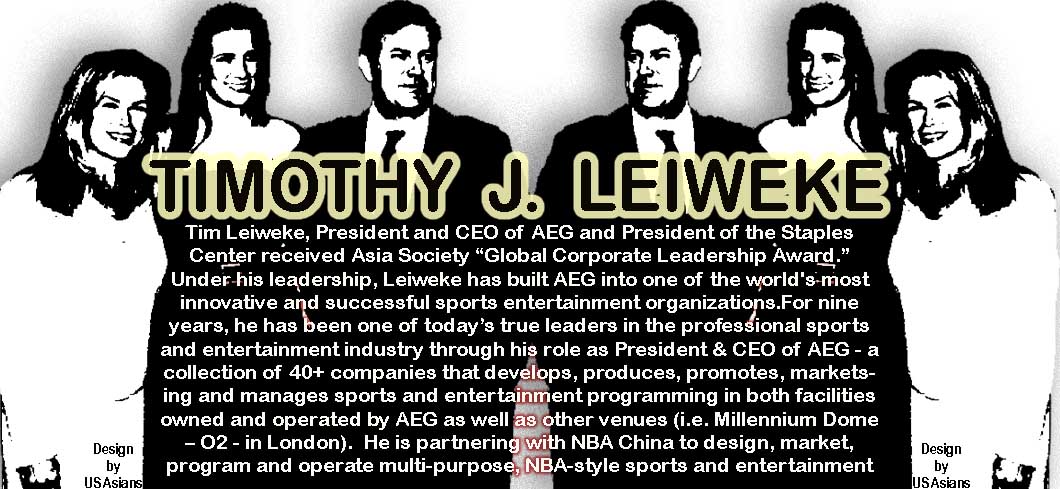 Kobe Bryant's Reality Show
IN THE NBA, Kobe Bryant has reached the heights through winning the NBA's MVP, the Finals' MVP and four NBA rings – with hopefully a few more, considering that the Lakers (as of the time of this writing) includes Pau Gasol, Andrew Bynum, Derek Fisher, Ron Artest, Jordan Farmar, Josh Powell, Shannon Brown, DJ Mbenga, Adam Morrison, Sasha Vujacic, Luke Walton, Sun Yue and Lamar Odom (hopefully). Kobe has extended his success to China, with the help of Nike, through various campaigns. These efforts have included Kobe Mentu (Chinese for disciple) - his Wieden and Kennedy/Shanghai-designed basketball reality show on CCTV 5 with the purpose of connecting him (along with Nike) with Chinese basketball players because of Kobe's expertise in basketball training and being the hardest working basketball player. The concept is as follows: 24 basketball players were selected from all over China under one roof for 2 weeks of intensive training camp with Kobe in LA. The 12 best of the best were selected as Kobe's disciple and put into two teams for a final game in Beijing. The whole documentary is produced as a 6-part TV series. The results, in conjunction with Mindshare handling media, consisted of 37 million TVC and TV show impressions, 31.8 million OOH impressions, 95.7 million Print impressions, 16.3 million training videos viewed online, 3.4 million visits to the website and 300,000 actual episodes viewed online within first 5 days. His personal rewards can be reflected in his words that state Mr. Bryant has stated "It has been a privilege to work with so many young Chinese athletes, and young people around the globe. Sports truly is a universal language, and bringing together the youth of China and the United States through basketball is extremely rewarding." 'For additional information on the "Kobe Mentu" show, please visit their website at http://www.nikebasketball.com.cn/kobe_mentu
Tim Leiweke became the youngest general manager in pro sports at age 24 with the Major Indoor Soccer League's Baltimore Blast.
IN THE U.S., AS THE NATIONAL AMBASSADOR
for After-School All-Stars
(ASAS)
since 2007 – the charity that was founded by Governor Arnold Schwarzenegger in 1992, Mr. Bryant is involved with finding ways to help American youths better understand the importance of the U.S. - China relationship, and to benefit from the opportunities that relationship can bring. He was inspired by the programs' ability to keep kids safe during the critical after-school hours when they are most likely to join gangs, smoke cigarettes, or experiment with drugs, alcohol or sex – as observed in the recent 21st Global Youth Service Day. He has previously met thousands of kids participating in the organization's comprehensive after-school programs that include academics support, personal enrichment opportunities, and athletic programs to address the 15 million kids that leave school with nowhere to go that unfortunately results in criminal or drug-related activities. He has spoken to students about the importance of education and held a basketball clinic in Miami. He emphasized this through his words
"Education is key . . . As a kid it never sinks in until you are put in an environment where it all comes to fruition. So it has to be lived, not only said, but it has to be lived. Through this program, in this environment, the importance of education is lived on a daily basis. That is what makes this program so special."
In recognition that learning a culture's language(s) is the quickest and most efficient way of promoting understanding, the Kobe Bryant Family Foundation's latest venture in 2009 is to launch a Mandarin language program in conjunction with the After-School All-Stars, which will pay the salaries of four teachers to teach Chinese language skills and culture to American youth in the "After-School All-Star" fashion of making it fun for the kids.
"I want to help these kids see the possibilities of China and just understand that the world is much, much bigger than what they see around them,"
Mr. Bryant says.
"It helps show them that anything is possible and they should not be afraid to dream big. You're not just locked in to one city."
"I have a curiosity about other cultures and an openness to them, as a result of growing up overseas" (Kobe Bryant)
IN CHINA, while building on his NBA achievements and success in the above-listed inroads into the marketplace in China (where some have commented that Bryant is so popular in a marketplace of four billion people in Asia and 1.3 billion in China where the potential fan base and endorsement gold mine so great, it makes the U.S. markets - along with the media and the general public's perception in the United States almost secondary in priority), Kobe Bryant will be assisting the efforts of the Soong Ching Ling Foundation's (SCLF) efforts to bring educational, sports and health programs to children across America. This is significant because SCLF is a prominent non-governmental institution bearing the name of the late Honorary President of the People's Republic of China - Soong Ching Ling (Madame Sun Yat-sen, 1893-1981, late Honorary President of the People's Republic of China, world famous patriot and distinguished international statewoman) and established on May 29, 1982. Kobe's affiliation with the (Henan) Soong Ching Ling Foundation provides tangible evidence of his efforts of carrying forward Soong Ching Ling's unfinished work in strengthening international friendship, promoting people-to-people exchanges and improving children's welfare by giving prominence to poverty alleviation through education aid while safeguarding world peace and friendship among nations that has produced great results in and outside of China.
KOBE'S EFFORTS TO CONTINUE SCLF'S TRADITION that – in the past – resulted in the construction of schools in poor villages, receiving needed items (i.e. chairs, desks, computers, hearing aids, books, sports facilities, clothing, health care products), improving school conditions/educational environment and social influence that led to receiving the honor of "National Model Nongovernmental Organization" by the Ministry of Civil Affairs of China.
(Editor's Note: Soong Ching Ling's tradition started with her father, Charlie Soong, who was Duke University's 1st international student while extended to her famous sisters that include Madame Chiang Ka-shek/Soong Mayling) and Soong Ai-ling who was married to influential banker Kong Hsiang-hsi)
CONSIDERING THAT SCLF is a relatively new institution with limited funds with a policy of progressive advance doing what its capacity allows, it has embarked on number of undertakings during the past seven years, with help from enthusiastic supporters at home and abroad. With Kobe Bryant as one of its latest supporters to help SCLF (Soong Ling Ching Foundation) raise monies, their partnership might provide exciting opportunities to work on SCLF's past projects and/or similar projects in the near future such as the following:
Soong Ching Ling Children's Science and Technology Pavilion - venue opened on 1986's International Children's Day in the Soong Ching Ling Children's Science Park to be a learning center for children in the areas of science and technology

Soong Ching Ling Tianjin Bohai Children's World - venue is a 57,000 square meter centre of education and recreation, jointly launched by the SCLF and the Tianjin Women's Federation that was completed and opened on June 1, 1988.

Soong Ching Ling Children's Literature Prize -with the Ministry of Broadcast, Film and Television, Ministry of Culture and the State Education Commission, this award commends writers who have made contribution to children's literature

National Children's Electronic Organ Exhibition Competition (Beijing) - Competition with about 200 young contestants from 29 provinces, municipalities, and autonomous regions. With the help of Yamaha, set up four electonic organ training centers in China.

Soong Ching Ling Children's Invention Prize - in October 1986, the Prize was sponsored by State Science and Technology Commission with the hope it will arouse the children's consciousness of doing solid work by daring to practice and create.

Soong Ching Ling Foundation Scholarship - the Scholarship was instituted to encourage the girls from minority nationalities to win honors in both study and behavior, to readily accept work in their home areas after graduation from their colleges

International Children's' Film Shows - arranged 8 films adapted from world children's classics and children's television dramas to be seen on CCTV. Produced and telecast films with CCTV, Chin Television Drama Production Centre, China Children's Film Studio and China Children's Art Theater. SCLF/UNICEF-produced "The Children of Soong Ching Ling" was nominated for an Oscar Award as the best children's film. Organized an international animation film show on TV and International Children's TV Program Show.

Training Course for Teachers - teaching program for kindergarten teaches to raise the vocational level of kindergarten teachers.

Cooperation Projects between SCLF and UNICEF - built up two maternity centers (Beijing & Gansu), children's library in Guizhou, five mobile children's libraries in mountain villages. With Foster Parents Plan International, built facilities for villages in Tongxin county.,

Promote Children's Sport Activities - sponsored with the Chinese Football Association the "Baby Cup" (children's football matches), International Invitation Tournament of Football Match (China, United States, Japan and Germany), National Children's Palace Three Chess Tournament (Chinese Chess - Go), International Optimist-Dinghy Association World Sailing Championship, established the "Golden Key" Children's Yachting training base in Qingdao, established the children's Sports Promotion Society.

International Exchange - organized U.S. tour with four child painters that included attending the Striking Peace Bell Ceremony on the International Day of Peace at the Headquarters of U.N. in New York presided by the UN Secretary General Mr. Javier Perez de Cuellar.

Promote Peace - organized the International Knowledge Competition with peace as theme that had one hundred thousand people participating while being shown on CCTV. Soong Ching Ling Foundation was conferred the Title of "Peace Messenger" by UN's Secretary-General Mr. Javier Perez de Cuellar. Worked with the Chinese People's Association for Peace and Disarmament, China Association for Science and Technology to launch "Science and Peace Week" to usescience and technology in a peaceful environment.

Exhibits for Children - held an exhibition entitled "Future Pillars of the States" with Hong Kong Council of Early Childhood Education and Services, organized with the Ministry of Geology and Mineral Resources the "Love China" study movement, sponsored with the Chinese Musicians Association's nationwide contest of finding the best songs for children and exhibit of children's painting

Cancer Treatment - working with the International Consortium for the CURE of Childhood Cancer in China (CURE) on a project to develop in China a national health care program for diagnosis, research, and treatment of serious childhood diseases, especially cancer - the disease that causes more deaths of Chinese children than any other illness.

"All for Children"-- Love-Care Charity - this long-standing annual event of inviting children to Soong Ling Ching's residence to celebrate the children's holday had a special meaning in 2008 because of the recent deadly May 12th earthquake in Wenchuan to share the need to learn to be staunch, to cherish life and to be ready to offer assistance for the rebuilding of homes.
Houston Rockets forward Tracy McGrady attended Asia Society Southern California's gala and offered an emphatic "Yes!" when asked whether Asian markets had more and richer endorsements to mine than the United States. "It's amazing over there, and I'm headed to Beijing and Shanghai this summer to work on some projects there," said McGrady.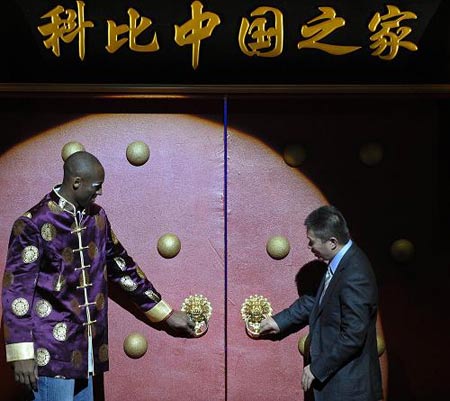 IN 2009, KOBE BRYANT added Charles Chao's Chinese online media giant SINA.com (SINA.com is the largest Chinese language information web portal with an estimated 94 million registered users.) to his endorsement portfolio with a sever-figure deal.that involves him writing a blog on the website. "As a kid growing up I never in my wildest dreams thought I would have this big fan base half way around the world in Beijing and Shanghai," said Bryant at the launch where he stood in front of an Oriental facade with a red door wearing a traditional Chinese-style jacket. His blog would be translated into Chinese and exclusive to SINA's readers with interviews, pictures and video of Bryant. "The only English version will be the one I type into my BlackBerry," said Bryant. However, Kobe did say "I am trying to learn to speak some Chinese," Bryant said. "I have a teacher who is teaching me one new word a day. But, now that I think about it, it seems like it is the same word each day."
SOME OF THE REASONS why Kobe has started his blog is because he has noted that " . . . it's amazing how much basketball has brought the world together, and the amount of respect and love that I have for (my Chinese) fans has continued to grow year after year . . . The passion that they have for the game of basketball is remarkable." What the blog will do, as Kobe stated, "For me to have the opportunity to teach them some of the things that I've learned has been phenomenal, and now with the addition of the website, they have more of an opportunity to see it on a daily basis, and I'll be able to reach out to them on a personal level and continue to try and teach them some of the values that I've learned from the game . . . . . "I feel this is a perfect way for me to stay in close touch with my fans in China and for them to stay in touch with me," Bryant concluded. Kobe shared that he is not worried about Chinese censors changing the meaning of his blog reports. Even though he won't be able to read the finished product he trusts that the translation will be accurate. One wonders how a crossover dribble with a spin around the defender at the top of the key and driving to the "hole" for a reverse spectacular slam dunk from one side of the hoop to the other side over several defenders have any political applications?
| | |
| --- | --- |
| | |
AS A "THIRD-CULTURE KID" who seeks to expand his "online home" - Kobe hopes to do similar websites in other languages. Kobe states "We have been thinking about it," Bryant said. "I would like to do one in Italian. Italy is my home away from home. I have a great time going there to do basketball camps and I get to spend time catching up with my friends." Kobe states that growing up overseas has taught him to appreciate learning about other cultures and speaking different languages. He has gone further, as noted in his words that "I take underprivileged kids on all-expense paid trips to Italy." Kobe has noted that "Kids in Europe speak two languages. They get to see other cultures but our kids here in the United States don't get that . . . . When I was growing up in Italy it opened up a whole new world to me and I thought anything was possible."
KOBE BRYANT'S CHARITABLE INITIATIVE serves to meet two needs that are strategic to his success in China. First – it embraces the impact, recognition and importance of China's fast-growing culture of individual charitable giving. Recently Yao Ming's donation of $293,000 to the Sichuan earthquake victims, Sichuan native and tennis player Zheng Jie donated her prize money to earthquake relief and others were well received. The Chinese government has hope that philanthropy by athletes and other celebrities will encourage newly prosperous entrepreneurs to give money as well. Second - sports have always played a large role in bridging between China and the outside world. Starting from the "Ping-Pong Diplomacy" of the early '70s where Chinese and American table-tennis teams compete against one another as a precursor to a thaw between the nations. The spectacle of the Beijing Olympics last year was China's greatest-ever turn on the world stage. China started promoting sports, along with its athletes, because it was one of the few diplomatic channels open to it. Sports' largely non-verbal character also successfully satisfy a large part of Chinese public life. Combined a high-profiled American athlete with international credentials (Kobe Bryant) that has a solid sense of how to navigate in China with an international United States-based company that has learned how to be successful in China (Nike/Nike Asia) within a campaign that meets the parameters of the consumers within China – expecting great things is a very logical conclusion.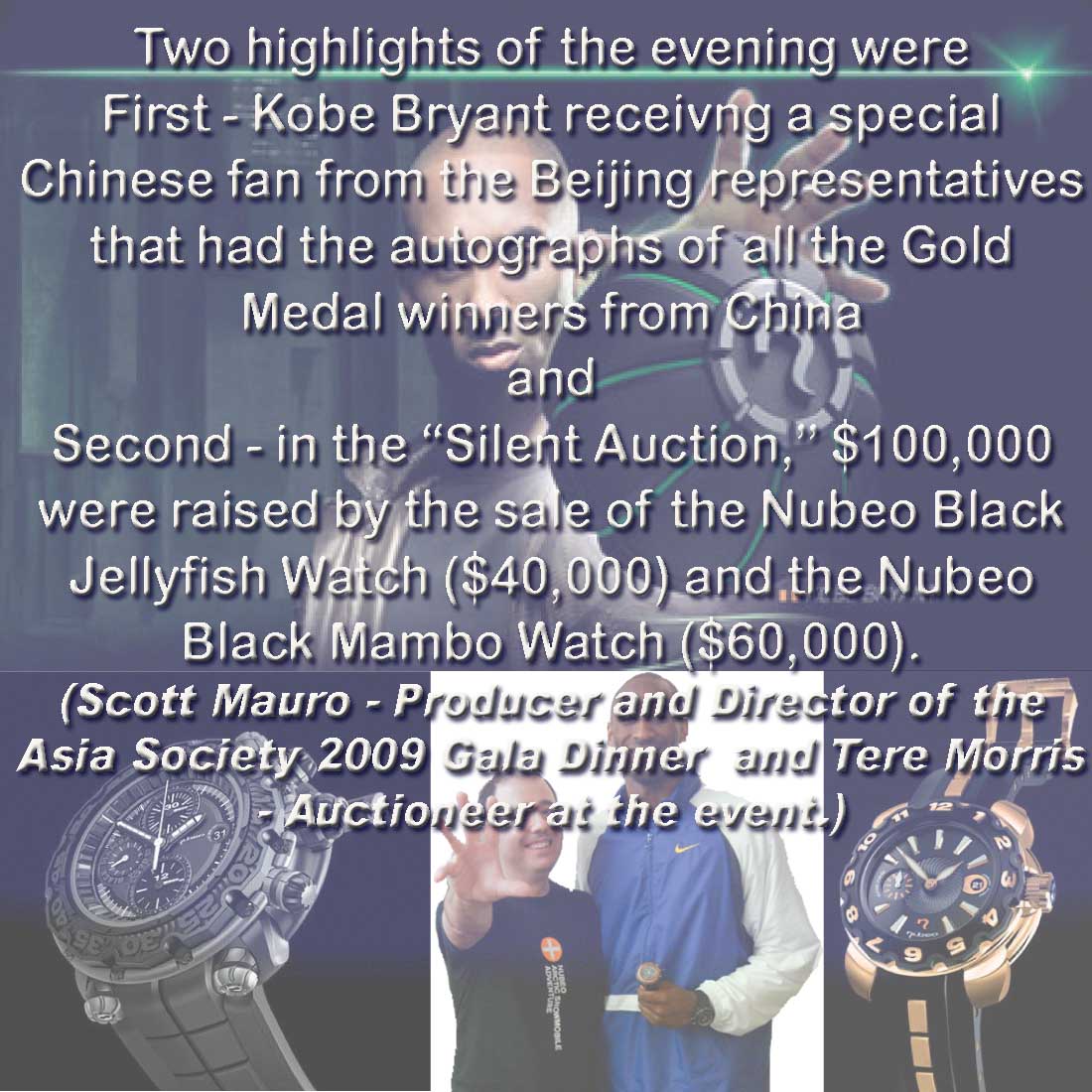 KOBE BRYANT, ALONG WITH NIKE/NIKE ASIA, are business visionaries who made a deliberate campaign of identifying the importance of capturing invaluable market share of a fast-growing consumers in China (the world's most-populous country with four billion on the continent and 1.3 billion in China) during this difficult economic period via innovative and strategic partnerships to create or improve brand identity to achieve long term success in the Chinese market. Kobe's success is continuing Nike/Nike Asia's reputation of being the icon for the new China – especially since Nike has a widely recognized reputation among many Chinese consumers that consider Nike the Middle Kingdom's "coolest brand." Nike's merchandise has become items that China's new middle class, which is hungry for Western gear and individualism, hungers for because they represent symbols of success.
WORKING WITH KOBE MEETS NIKE'S FORMAT to cracking the "Chinese Code" – promote the right sports (basketball) and launched a series of inspired ad campaigns with the right athletes (Kobe Bryant and the Kobe Mentu reality show). Their goal is to start from China's richer east-coast towns and proceed inland. Noting the NBA's partnership with AEG (along with the Chinese government) to build twelve NBA-styled basketball venues throughout China – the environment to continue the consumer within China looks very promising for the future – especially with current sales exceeding $1 billion in their second-largest market outside of the United States. Kobe Bryant and Nike/Nike Asia understand that to continue their success from the great adoration of Kobe from the 350 million Chinese fans that already exists (with an estimated 12% of the urban Chinese population now playing basketball, along with 83% of 15- to 24-year-old Chinese youths are NBA fans and with more than 450 million tv viewers in China), displaying an affection for Chinese culture and people would be invaluable for long-term success – along with traveling to China and being with his many passionate fans in China. "Kobe has a genuine interest in China and has traveled extensively throughout the country," said Heidi Ueberroth, the NBA's president for global marketing partnerships and international business operations. "He spends time visiting as many places as he can and interacting with fans everywhere he goes." His visit to China in July 2009, on behalf of Nike, is a very good start in this direction. Could Kobe be involved in a Chinese version of his good friend's (Tiger Woods) annual event entitled "Tiger Jam" that features artists from China and the United States raising funds for SCLF?
KOBE'S SUCCESS OVER YAO MING (in jersey sales in China) could be the result of the status value American merchandise has over Chinese products. It can be seen with Chinese-made Lenovo (formerly Legend) computers used to outsell foreign competitors 2 to 1; now more expensive Dells are closing the gap. Foreign-made refrigerators are displacing Haier as the favorite in China's kitchens. Chinese dress in their baggiest jeans to sit at Starbucks, which has opened 100 outlets and plans hundreds more. China's biggest seller of athletic shoes, Li Ning, recently surrendered its top position to Nike, even though Nike's shoes upwards of $100 a pair cost twice as much. It has been stated that "Nike was smart because it didn't enter China selling usefulness, but selling status." With Kobe's success (along with the U.S. Olympic Basketball Team winning the Gold Medal), having a "24" jersey meant achieving the highest status with many Chinese consumers.
| | |
| --- | --- |
| Kobe in the Philippines | Kobe in Hong Kong |
| | |
KOBE BRYANT'S ABOVE LISTED SUCCESS, done in partnership with Nike/Nike Asia, in China also parallels the NBA/NBA China's push in the same markets that has resulted in 30% to 40% revenue growth to compensate the flat growth in the United States. This growth has compensated the NBA's recent economic times that has manifested itself with a 9% cut in league jobs and the "Salary Cap" (a direct barometer of the NBA's revenues since it is generally tided to leaguewide revenues) will decrease 1.6% in the 2009-2010 season and expected to decrease as much as 5% in the 2010-11 season. Along with his partnership with Nike/Nike Asia, Kobe is capitalizing on the NBA's efforts for the last two decades of spending monies of building courts, holding skills clinics and mounting promotions that resulted in more than 300 million people in China that play the game, with 89% of those aged 15 to 54 now aware of the NBA brand (through 2 million unique uses to live games, 1.6 billion viewers, etc.) that is developing an even larger untapped markets for Kobe's various merchandise – especially noteworthy since China is now the NBA's biggest foreign market for its branded merchandise. With NBA/NBA China's Tim Chen and Heidi Ueberroth partnering with AEG on designing, marketing, programming and operating (via AEG-Ogden) twelve multi-purpose NBA-style sports and entertainment arenas with seating capacity of 17,000 with the funding from the Chinese government and Chinese banks (starting with the Beijing's Wukesong Indoor Stadium with a capacity of 18,700 with 2,500 club seats, 9,600 lower bowl seats and 48 private suites) - the environment for the NBA to be the major global sports player in China (through various additional programs such as NBA's own reality show called "Mengniu NBA Basketball Disciple"), AEG to be a major force for events (i.e. basketball, other sporting events, concerts, cultural events and trade shows") and for Kobe Bryant to be a Global Athletic Icon" appears to be a great reality that can only become bigger.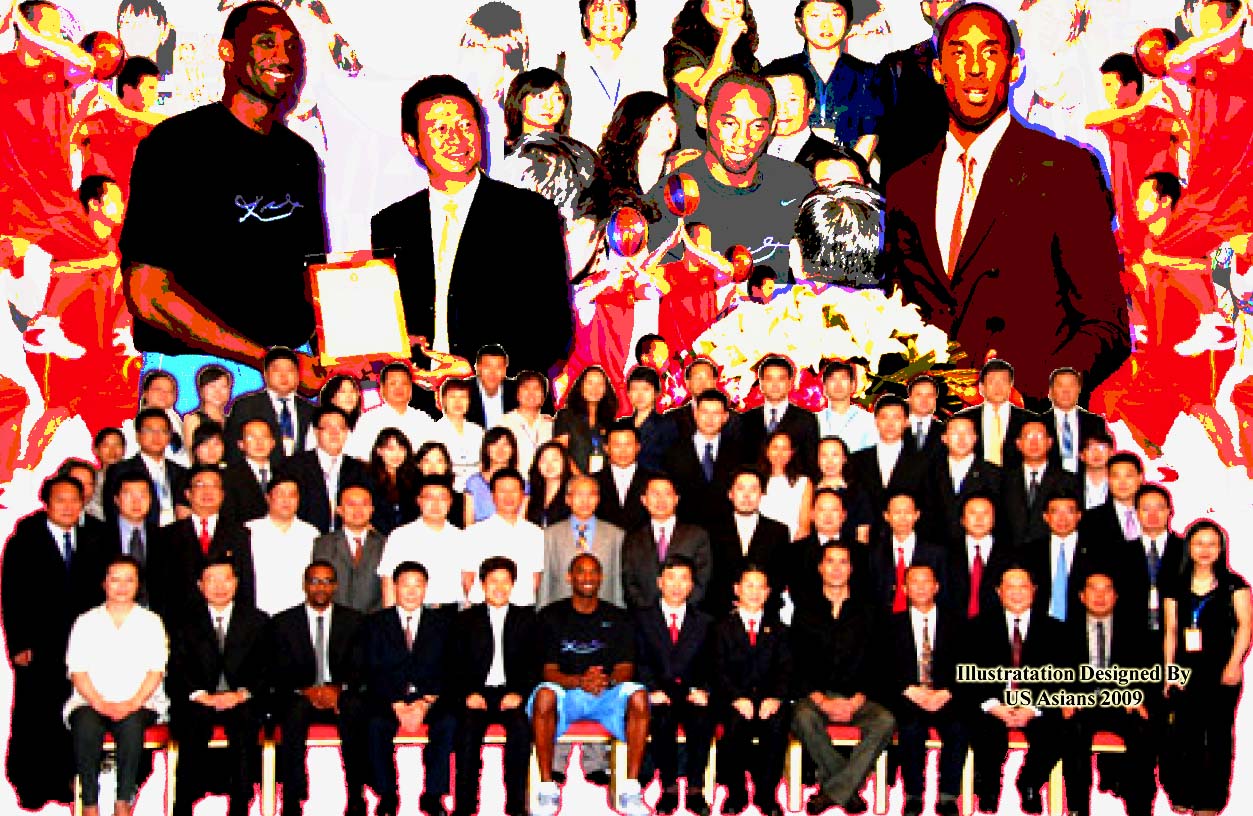 KOBE BRYANT UPDATE: The Kobe Bryant China Fund made its first donation of five million yuan to children in quake-hit Sichuan province in an effort to help them in the areas of culture and sports at a charity banquet in Beijing. The Fund has raised 42 million yuan (about $6.15 million) from various enterprises and will work with the state-supported Soong Ching Ling Foundation to raise money within the country for education and health programs. Mr. Bryant's existing U.S. charity, the Kobe Bryant Family Foundation, will also work to strengthen U.S.-China ties by teaching American middle-school students about Chinese language and culture. For Bryant as a foreigner, to spend time and money boosting China's welfare, it has the potential to energize Chinese people to spend their own time and give their own resources. The Kobe Bryant China Fund was established by the CSCLF and the Kobe Bryant Family Foundation on June 30, 2009 in Los Angeles with the goal of raising raise money for education, sports and culture programs for children from both China and the US.
For more info, click HERE and HERE
Kobe and Magic @ MJ's Memorial Service
REMBERING KOBE BRYANT'S WORDS spoken at the Michael Jackson Memorial Service that MJ (Michael Jackson) set a record of the amount of charities supported by a pop star and recognizing his ongoing philanthropic plans in the United States and China - will he be embracing to a greater degree the directions of his recently deceased great friend - Michael Jackson - had taken and incorporate them within his present and future plans - acknowledging that he (along with a selected few athletes/entertainers like Ali, Michael Jordan, Tiger Woods, Michael Jackson, etc.) have the unique ability and opportunity to be truly an international icon. This is noteworthy considering his cultural and ethnic credentials of spending much of his childhood in Italy, speaks Italian and Spanish (hopefully Mandarin in the near future) and an openness/curiosity to other cultures in this transnational/cross-cultural/multicultural world - what does the future hold for Mr. Kobe Bryant? Since his background, background, basketball success and his access to invaluable resources provides him with a vast spectrum of options to consider, one is excited about the many possibilities and success that he can achieve. One hopes that he will carry on the tradition of his great friend that just died that means he could do some of the below-listed options:
Paul Robeson (1898-1976) & China

Embracing Rev. Al Sharpton's words at the Michael Jackson Memorial Service of breaking down barriers and divisions between people;

Continuing the bonds of understanding and support between

Paul Robeson (who sang the Chinese song "Move On" in the U.S. while recording it in Chinese and elected in 1952 as vice-president of the Laison Committee for Asia and the Pacific – a Beijing-based branch of the World Peace Council)

and Soong Ching Ling

(as noted by her words "The Chinese people have a special connection to your family," Soong Ching Ling told Paul Robeson Jr. in Beijing. "Many cherish your father's memory, including me.")

– along with the Chinese people since they shared a profound sense of social responsibility, leaders of international peace campaigns, care for all people in the world, need to build up a harmonious world, the same "inborn strength" and dedication to the world's most vulnerable human beings;

Work with Nike, AEG and NBA on events that maximize the benefits of the intersection of sports and entertainment between China and the United States via events that bring together celebrities between the two countries;

Be a rare American star athlete with true international credentials, partly through his ability to speak English, Italian and Spanish (and hopefully in the future being influent in Mandarin) and:

A "Cultural Ambassador" that transcend boundaries between China and the United States?

I, along with the many NBA fans in China and the United States, look forward to his continuing transformation.