Her Enthralling Characters Remind Us That Seemingly Solitary Upheavals
Can Become Transcendent Communal Experiences.
INTRODUCTIONS
US ASIANS: Thank you for the opportunity to discover the various passions behind the making of "Red Doors" and your creative journey to portray various aspects of Americans of Asian descent.

GETTING "RED DOORS" MADE
US ASIANS: Could you share how three Asian female graduates of Harvard obtained financing (roles of the partners, obstacles, supporters, nay-sayers, types of financing considered, etc.), did your experience at McKinsey & Company provided a "starting point and how were the responsibilities divided?"
GEORGIA LEE: Our business backgrounds definitely helped in the financing part of the process. We were able to write up a business plan and connect with potential investors because of our experiences at places like McKinsey and Goldman. In addition, I think that investors were more comfortable with the idea of handing over money to individuals whom they felt would be financially responsible.
US ASIANS: What were the many processes of pre-production, production and post-production for the film?
JANE CHEN: Pre-production, production and post-production for RED DOORS was like any other film only with a lot less time and a lot less money. In pre-production, we honed the script, raised the financing, hired the crew, found our locations, and cast the characters. In production we shot the film. In post-production we edited the film, composed the score, did the sound mix, and started looking for sales agents and applying to film festivals.
DISTRIBUTION
US ASIANS: Were the alternatives of the route of a "negative pick-up," ancillary/mezzanine-type financing (a fast-growing alternative seen in recent films such as Superman Returns/Poseidon/etc.) and/or pre-selling markets to obtain financing and distribution considered – along with other financing alternatives?
JANE CHEN: All were considered and some were attempted but nothing came through. The hard fact is that unless your film features recognized stars or is in a popular genre (i.e. horror) the fact is that no alternate financing sources will consider you. Most of the fast-growing alternatives that you mention are almost exclusively in the domain of big-budget studio films.
RED DOORS - Win a Date with Mia Riverton!
Move over, Tad Hamilton! To commemorate the opening of RED DOORS (in theaters Sept. 8th), the producers have created a one-of-a-kind contest.
By purchasing advance tickets for any RED DOORS opening weekend show, you are eligible to win a date with dazzling actress-producer Mia Riverton to the RED DOORS New York premiere and exclusive VIP after-party (or another RED DOORS screening of your choice).
Five others will receive RED DOORS theatrical posters signed by Mia and the rest of the RED DOORS cast and filmmakers. Mia enjoys the company of both men and women and encourages everyone to enter the contest...
HOW TO ENTER:
1) Buy tickets online by 11:59 pm on Monday, Sept. 4th. Tickets are available at the RED DOORS website: www.reddoorsthemovie.com or directly via the theaters: Angelika Film Center or at ImaginAsian

2) Email your ticket purchase confirmation code to: michaelb@reddoorsthemovie.com with "Date Mia" in the subject line.

Winners will be randomly selected and notified via email by Tuesday, Sept. 5th. If unable to attend the premiere, the grand prize winner has the option of selecting a screening time during opening weekend (Sept. 8-10, 2006) to suit his/her personal schedule.
Friends and associates are welcome to attend / chaperone but must purchase their own tickets. The producers are not liable for any fun, motion sickness, fainting, or heartbreak induced by Ms. Riverton (trust us, we've worked with her)*. She's waiting for you...
US ASIANS: Could you share what is the current status of Red Doors being broadcast on CBS?
GEORGIA LEE: CBS purchased a pilot script based on RED DOORS for a one hour drama. We worked with CBS and Paramount TV to develop the script and had a great experience with them. The pilot did not actually get shot, but it was a great learning experience for us in a format we had not been exposed to before. In addition, it was exciting that CBS was seriously considering creating a drama based on an Asian-American family that was about the characters themselves and not necessarily about the immigrant experience. They didn't require any funny accents, any kung fu, or any other stereotypical elements.
US ASIANS: When will the film be seen theaters, which theaters and what would it take to have it released nationally?
JANE CHEN: RED DOORS will be released first in New York City on September 8 at the Angelika Film Center and the ImaginAsian Theater. The film will be released in San Francisco on September 22nd, theater to be determined. The film will also open in Los Angeles, theater and dates to be determined. After that, we expect to roll out to other cities across the U.S. We are hoping for strong first weekend box office numbers. If we can reach a per screen gross of over $10,000, I think we have a good chance of expanding beyond the three announced cities.
CAST & CREW
US ASIANS: Were other known Asian Pacific American actors (i.e. Leonardo Nam, John Cho, Will Yun Lee, Eddie Shin, Gedde Watanabe, B.D. Wong, Russell Wong, Rick Yune, Ryun Yu, etc.) approached when the original actors had to drop out of the project?
MIA RIVERTON: Leo Nam was originally cast in the role of Simon (Katie Wong's nemesis/love interest), as he and Georgia had worked together on her previous short film, EDUCATED, and she thought he was perfect for the role. Leo had to drop out two days before his first scene was to be shot for RED DOORS, because he took a role in a studio film ("The Sisterhood of the Traveling Pants"). We had literally 24 hours to recast the role, so we hurriedly made some phone calls and ended up casting someone from a session our casting director organized in NYC.
Leehom Wang was originally cast in the role of Alex (Samantha Wong's ex-boyfriend), again because he and Georgia know each other and she thought he was perfect for this role, which required singing and musical ability. His music label, Sony Asia, pulled him away to finish his album a few days before we were scheduled to shoot his scenes. We scrambled to make phone calls, send out casting notices, etc. – and we saw a number of actors in NYC and LA on very short notice. This was a particularly difficult role to cast because of the musical skill required.
US ASIANS: Was Rossif Sutherland's height and charisma (resulting from his father being Donald Sutherland and his half-brother Kiefer Sutherland) important factors in his selection of being part of the cast?
MIA RIVERTON: The role of Alex was particularly difficult to cast because of the musical skill required. We did not consider height, charisma, or family connections to be relevant factors; Georgia was mostly concerned that the actor embodied the essence of this character, who is an artist, and also that he be able to sing, play guitar, and write his own music. Her friend Leehom Wang, an Asian-American actor-musician who is a big star in Asia, was originally cast in the role. He is tall and charismatic, as is Rossif Sutherland (who we cast when Leehom dropped out), but those factors are secondary to the essence of the character.
US ASIANS: Film music is often the glue and/or the foundation that allows the film's emotions be effectively communicated while not being noticed – having said that, what brought Robert Miller to your attention and what part of his previous works provided evidence that he can fulfill your intentions? What other magic did he expectedly provide? Was Ken Oak (a big favorite of Katie) ever considered (by you and/or your team that included Susan Jacobs) when and/of if the film needed good songs? Did Nathan Wang (prominent film composer) come to mind when seeking somebody to do the underscore?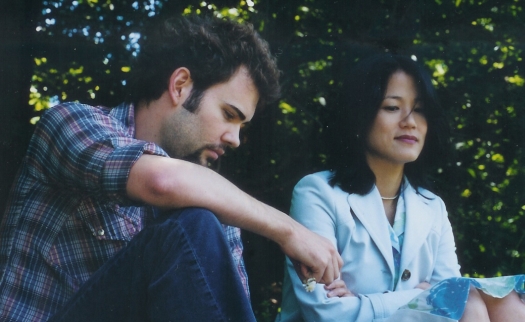 Jacqueline and Rossiff
MIA RIVERTON: We worked with a wonderful music supervisor named Susan Jacobs, who had also helped Georgia with her previous short films. Susan brought in work samples from a number of different composers, and after hearing the samples and meeting with several candidates, we decided Robert Miller's sound was the best fit for the film. Robert is a very accomplished classical musician and composes scores for feature films, short films, commercials, etc. He has also been an extremely generous and enthusiastic supporter of the film ever since he came on board, consistently going above and beyond the call of duty. He called in a bunch of personal favors to get world-class musicians to play on the score; he has supported the film by organizing and hosting special screenings, and he has continued to help the filmmaking team in a capacity far beyond what a normal composer-for-hire would ever be expected to do.
US ASIANS: Having gone through the experience(s) of having no Asian Pacific American male actors auditioned (after the two original Asian Pacific American actors had to back out), could you provide some background information on why this occurred and the possible explanations/reasonings?
Working APA Actors in Hollywood

For info, read Jeff Adachi's interview by clicking HERE
GEORGIA LEE: I think that Asian-Americans have traditionally not been as encouraged as other folks (and in many cases, actively discouraged as in my case) either by family or by society to participate in many public-facing, media-oriented professions such as politics, film, television, etc. There have been a disproportionately smaller number of Asian Americans who seriously pursue acting careers, and therefore there is a smaller pool to draw from. In addition, the actual structure of the entire acting community is probably harder for Asian Americans to navigate because there are again a disproportionately smaller number of roles seeking Asian Americans.
I am not an expert on this topic, but I think that it may be more difficult for AA actors to get signed by bona fide agents as well. Without a good agent, it is hard to get timely access to all the parts that are being cast every day. In addition, without good agents, the actor doesn't have a strong advocate for him/herself with the casting director, etc.
Our casting director was Susan Shopmaker who has cast a number of films with Asian Americans in them including The Motel. So we had an individual who was more aware of the AA actors in NY than others might be. And still it was hard to find AA actors. Perhaps we not only need more AA writers/directors/producers and obviously more AA actors, but we may also need more AA agents and managers to help connect the dots.