US ASIANS: Thank you for taking the time in your busy schedule to answer some questions about the future of the NFL in China. Hopefully our below-listed dialogue will provide invaluable interest and information to people interested in seeing the development of American-style football within the fastest growing consumer groups in the world.
"MAYDAY" & THE
"NFL BLITZ" REALITY SHOW

Acknowledging that the NFL's first major efforts to enter the markets in China, the questions below will highlight on the NFL's 16 30-minute episodes reality show on CCTV featuring the Chinese pop/rock group "Mayday." The programs are targeted at the 100 million Chinese teenagers and young adults in large urban area's fascination with American culture. This venture was organized by Kevin Chang (Director of International Media for the League Office, of which there are five satellite offices - U.K., Canada, Mexico , Tokyo & Beijing.
US ASIANS: Acknowledging NFL China's immediate goal is building a fan base by getting NFL content (game broadcasts and highlights) through the various available media options ranging from television to mobile phones, how will Chinese consumers (throughout China, Asia, Europe and the United States) be able to view the reality shows – as a reflection of NFL's top media executive Steve Bornstein stated "committed to growing our sport around the world, including China?
MICHAEL STOKES: We have produced this programming specifically for broadcast in Mainland China in conjunction with CCTV. However, we do consider this "Evergreen" content that will appeal to other markets and we will explore syndication and alternate distribution opportunities after the CCTV broadcast are complete. In the meantime, we hope our fans will continue to visit NFLChina.com, that has a great number of highlight videos, educational clips and flash games.
Mayday (formerly known as So Band) is a pop rock band (sung mostly in Mandarin) that have sold more than 1 million albums while kknown to many as the pioneers of rock in Taiwan.. The group was formed in the late 1990s with five members, Ashin (A Xin) (vocalist), Monster (Guai Wu/Guai Shou) and Stone (Shi Tou) (lead guitars), Masa (Ma-sha) (bass guitar) and Guan You (Guan-You) (drums).
Their music started as garage-type rock tunes that progressed to music incorporating slicker production and sprawling anthemic songs. Their admiration of the Beatles (in addition to being influenced by U2, Oasis, Mr. Children, Sting and Wu Bai & China Blue) have resulted in their dreams to become the "Beatles of the Chinese World."
US ASIANS:
Considering that the reality show have been visiting colleges and high schools
(in addition to NFL cities)
while explore the ancillary and pageantry aspects of the game that focuses on the Chinese's obsession with American culture, will a special "Mayday" concert
(or Chinese cheerleader content)
and/or concert featuring prominent Chinese artists during the Super Bowl festivities be forthcoming that represents a Chinese version of the annual "Halftime Concert" at the 2010 Super Bowl in Miami that will be planned by Kevin Chang and Stephanie Hsaio (Marketing Manager for NFL China who is responsible for recreating American football culture)?
MICHAEL STOKES:
We are looking forward to hosting "Mayday" at a press event here in Beijing on September 24th to promote the show, but there are are immediate plans to bring them to the United States.
Note: "Mayday" will performing in the United States in 2010 in Connecticut
(Uncasville's Mohegan Sun Arena - Sunday: April 4th - 1st show at 2:00 A.M. and the 2nd show at 2:00 P.M.)
, Los Angeles
(Gibson Amphitheater on Saturday: April 10th)
and San Jose
(San Jose State University Event Center on Sunday: April 11th)
- with the band returning to perform in Singapore on April 17th.
US ASIANS: Could you share how the strategic partners (IMG, Aaron Randolph) and entities (director Ton Yi Jun, Kevin Chang, Mayday, hostess Ada Liu, Ring) developed the relaxed, informal, campy and lighthearted concept (seeking Super Bowl tickets, playing flag football, marching bands, talking to cheerleaders, tailgating, visiting Chinese American football players, etc.)?
MICHAEL STOKES: Developing the concept was a collaborative effort between NFL China and IMG. Then when "Mayday" arrived in the United States for the shoot, their enthusiasm and creative personalities took everything to another level. We are really happy with the footage and believe the show will appeal to a wide audience, not just Mayday and NFL fans.
US ASIANS: Has the filming for the reality show been completed? Will Mayday be part of the promotion of the 2010 Super Bowl?
MICHAEL STOKES: Yes - filming is complete and the show is airing on CCTV5 at 11:30 P.M. on Thursdays. On Thanksgiving night in 2009, we had a total audience of 4.6M for the 30 minute show (audience figure reported by TNS research).
CELEBRITY RECOGNITION
(THE "YAO MING EFFECT")

The questions below are focused on the importance and/or need to have a specific high-profiled celebrity/athlete to be part of the NFL's marketing efforts in China. This is recognition on how the NBA successfully utilized Yao Ming to quickly enter the consumers/fans in China. In addition, these questions provide insights on how they are using Chad Lewis' unique abilities and passion in the NFL's efforts with the Chinese football fanbase.
Chad Wayne Lewis (NFL Ambassodor to China)
He is a Utah native that played tight end in the National Football League for the Philadelphia Eagles and St. Louis Rams. Before attending Brigham Young University, Lewis served as a Mormon missionary for two years in Taichung, Taiwan where he learned to speak Mandarin. Lewis finished his collegiate career with 111 receptions for 1,376 yards, and ten touchdowns. As a junior, he was an All-WAC first-team choice, and a UPI All-American honorable mention.Lewis signed as an undrafted free agent for the Philadelphia Eagles in 1997. After playing 2 1/2 seasons with the Eagles he was signed by the St. Louis Rams for only one season. Lewis won a Super Bowl title with the Rams in 1999 (Super Bowl XXXIV over the Tennessee Titans). Lewis was re-signed by the Eagles and caught the game clinching touchdown pass in the 2005 NFC Championship game. However, during this reception, Lewis suffered a serious foot injury that kept him out of the Super Bowl XXXIX loss to the New England Patriots.
In 2002 the NFL sent Lewis to Taiwan, Singapore and Thailand to promote the NFL. Since then he has visited China five times to give interviews and help with football clinics. He has also spoken at the Fourth of July celebration in China. He made his first trip with then-commissioner Paul Tagliabue in 2002 and served as color analyst for the first Chinese NFL broadcast at the 2004 Super Bowl between the Patriots and Panthers. Lewis' NFL Asia experience didn't start in mainland China, but on a three-nation trip in 2002 to Taiwan, Singapore and Thailand, where he conducted by his count hundreds of interviews, in both Chinese and English, with reporters and writers lined up at each stop for a 10- to 15-minutes apiece chat. Since then, he's made five extended visits to mainland China — always either Beijing, Shanghai, or both, and often with a family member in tow — and looking to returning more in the future to visit other cities.
So what's Chad Lewis, former tight end for the Philadelphia Eagles and the St. Louis Rams doing in China?
I am visiting Chinese students at different universities. I'll be doing halftime interviews during live game broadcasts on SMG and [Sina.com] (http://www.sina.com/). I'll do football clinics with the media so they can further understand the game of Football. I will also be appearing at a few of the NFL Evening viewing parties.
So you're here as part of NFL's push into the Chinese market?
What are the benefits to establishing an NFL following in China It's a great idea to get Chinese people together to watch games. That's one of the main draws for football back in the States—the camaraderie and social aspect of game watching. Also, China is not just important to the world economy, it is vital. I believe that in the coming years, Chinese fans will have a big impact on the game.
So, we've heard about your long-standing interest in Asia. You've been to China three times and lived in Taiwan for two years where you learned Mandarin. Why all the interest?
I am lucky to have fallen in love with the Chinese people and the Chinese culture because I served as a missionary for my church in Taiwan. It was the most incredible experience of my life. I learned how to speak the language there. There was a time when I could read and write very well. I know that I never would have been able to play in the NFL if it wasn't for living in Taiwan for two years as a missionary. Everything good in my life has come from my experience living among and serving the Chinese people.
One last question, do you think the NFL will recruit a football player out of China soon?
In a country of over 1.3 billion people, there are more than enough athletes that have the qualifications to play football. Football is unique because it can use all sorts of different people that come in any shape and size. I can't wait to see a Chinese player in the NFL. He will become a hero in China and I think he will have rock star status.
(from Beijing's City Weekend interview with Chad Lewis)
US ASIANS: How important is it to have a NFL equivalent of the NBA's Yao Ming to achieve the targeted success?

MICHAEL STOKES:
Player development is not a primary focus in China at this time.
US ASIANS: What would you say to interested observers that a NFL version of NBA's "Yao Ming" would be strategic to achieving the greatest growth of American-style football in China and successfully holding the China Bowl?
MICHAEL STOKES: There's no question that Yao Ming's success has had a major impact on the NBA's popularity in China, however, our primary focuses remains on building media partnerships which is the most efficient way to raise awareness and understanding of our sport. We are concentrating on media partnerships and marketing initiatives that will raise awareness and interest amongst urban males (18-30).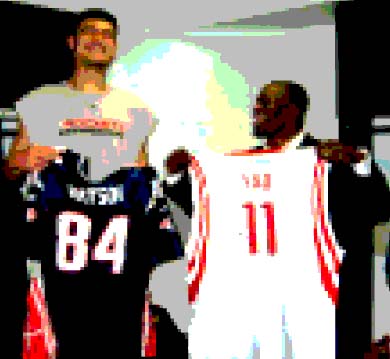 US ASIANS: Considering the importance and availability of numerous online & "new media" options to your targeted demographic group, will much of factor are the just-listed outlets? If so, have the online partners been identified?
MICHAEL STOKES: Sina.com.cn (China's #1 sports site) and QQ.com (#2 overall in China) are our two main portal partners - each of whom streams a live game every week of the season. We also work closely with renren.com, a popular social networking site that we feature on NFLChina.com. We like to foster and promote an online NFL community and Renren does this better than anyone in China.
US ASIANS: What are the plans for Chad Lewis - the NFL player who was former missionary who learned to speak Mandarin while serving in Taiwan?
MICHAEL STOKES:
We consider Chad Lewis an "NFL Ambassador" in China. With his language skills, love of the game and passion for China, we will continue to work with Chad. In fact, he was here again two weeks ago signing autographs at our weekly viewing parties, hosting a university flag football clinic and commentating during our MNF/Monday Night Football Sina Broadcasts. We always keep Chad busy and he is a pleasure to work with. He'll also be featured in "NFL Blitz" Episode #2 on CCTV.