X Japan's first actual full-blown concert at Southern California's Wiltern Theater that started their first North American tour put on full display the iconic Japanese band's expertise within the rock (Japanese version of heavy metal) and classical genres that has allowed them to reach legendary status in their home country of Japan and throughout Asia. The band's passionate and dedicate followers personally witnessed "up close and personal" the band's multiple skills that included Yoshiki's (Yoshiki Hayashi) piano compositions and outrageous technical skills on drums, along with Toshi's (Toshimitsu Deyama) vocal abilities.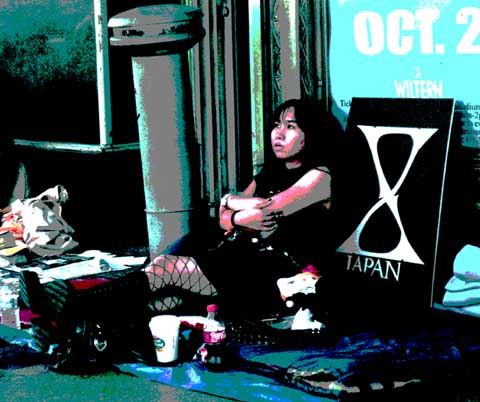 The band's devoted multi-ethnic (though mostly Japanese) fans - many in cosplay outfits, dolls in tribute of the group's late guitar player - "hide" - gathered at the Wiltern Theater hours ahead of time in memory/tribute/influences of X Japan's 1993 mini-album Art of Life, 30 minutes of melancholic piano interludes to bone-crushing guitar sounds - with violins and other instruments that Yoshiki - to their other albums such as "Vanishing Vision" to "Blue Blood" (breakthrough CD) to "Jealousy" to "Dahlia" (last major release) to memories of the late hide's (Hideto Matsumoto) guitar magic.
X Japan has regularly played in front of crowds between 20,000 to 50,000 people (selling out the 50,000 capacity Tokyo Dome 18 times) with their normal three hours long concerts while selling 30 million CDs/albums by 2010 throughout Asia. Many consider them the originators of visual kei - style of Japanese hard rock that incorporates elaborate and gothic-styled imagery within their performances that often include black leather, skulls and crosses. In addition, there were many members of X Japan's American management/production/supporters that gathered that night to see X Japan's first official entry into the American rock scene.
Prior to their performance
, someone would shout "We are" and much of the audience would respond with "X" - often people would raise their arms above your head and cross your wrists to form the letter X. Many fans were saddened that clips from "Yoshiki History Through X Japan" or that a fashion show featuring clothes from Yoshiki's clothing line with N. Naoto were not played during the 60+ minute intermission between the opening act and X Japan. Many others bought exclusive X JAPAN tour items including multiple t-shirt styles, the Yoshikitty doll, key chains, a hoodie and more at merchandise tables during the intermission time and after the concert
X Japan started their performance with a high energy version of "Jade" and "Rusty Nail" (both songs off their latest CD) - with a backdrop filled with lights of ever-changing colors. Their reputation as a stadium band was highlighted by the production that included LED lights, pyrotechnic elements, smoke machines, costume changes and "tried and true" classic "rock and roll" choreography that hinted of the production values at their stadium shows. Despite X Japan being handicapped with the sound mix that didn't provide the greatest opportunities to consistently hear the band's individual musical talents, though it was better than the one given to the opening band (see below for the review of "Vampires Everywhere"), many devoted followers were satisfied to just to see and hear their music heroes perform live.
Throughout the first two songs, followed by their performances of "Silent Jealousy" and "Drain" - Toshi seemed dedicated to evoking the vocal memories of legendary rock singers such as Ronald Belford "Bon" Scott and Brian Johnson from AC/DC fame to Guns and Roses' Axl Rose. The "Violin and Piano Interlude" provided momentary and fleeting inspirations from diverse sources such as Mahavishnu Orchestra's violinist Jerry Goodman/Jean-Luc Ponty to the playful interplay exhibited by Jethro Tull's Ian Anderson.
Yoshiki, Toshi and the other band members - Pata (Tomoaki Ishizuka) and Sugizo (Yune Sugihara) and "Heath" (Hiroshi Morie) - played with fury other highlights of their long career. These selections included songs such as Kurenai that provided the first explosive responses from the audience to the Bon Jovi-like rock anthem song Born to Be Free (from their latest CD) that included an extensive drum solo that ended with Yoshiki drenched in water and water bottles being tossed out to the audience in a fashion soliciting memories of vintage arena rock and roll shows from days gone by. The ending songs I.V. (song featured in the movie Saw IV) and X brought the audience to an even greater frenzy befitting their adulation of their gods of Japanese rock and roll.
The encore songs included a passionate version of the ballad Endless Rain and a musical highlight that started their great success - Art of Life. During this time, the band acknowledged the importance of this show and Yoshiki spoke emotionally about "hide." Despite hide's deathin being more than a decade ago, shortly after the band breakup, he remains an integral part and ever-present "spirit" that remains within the soul of X Japan and their fans - as noted by various members of the audience dressing nearly identical to him. Yoshiki then went on to say that he has been living in L.A. for about ten years now, that the city has become, in many ways, his "hometown." As a result, it was significant that the band chose L.A. to kick-start this new era of X Japan.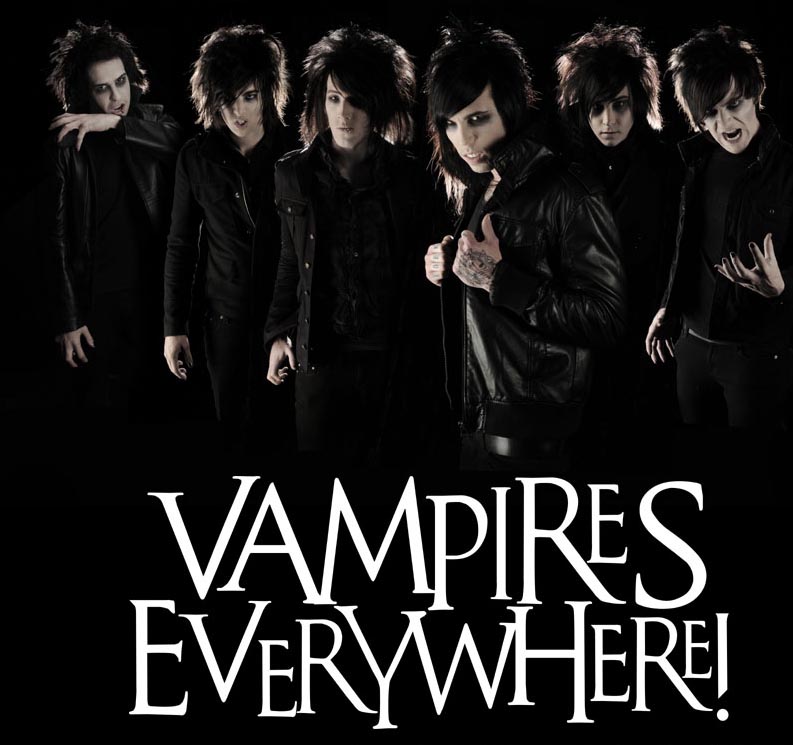 Century Media Records' Vampires Everywhere, the night's opening band for X Japan that was seemingly inspired by the success of "Twilight," provided great energy and skills born of dreams of being an arena rock bandUnfortunately, they were penalized by a sound mix that made their songs appear to be one great massive unchanging wall of sound where any existing textures, dynamics and words were not discernible to any first-time listeners such as myself.
Their selections - that included Bury Me Alive, Kill The Chemicals, The Embrace, Undead Heart, Ashes To Ashes, Children Of The Night and Immortal Love - appeared appropriate for the genre, though the mix made it difficult to accurately gauge the band. It would be interesting to see them at a rock festival with their own sound person to maximize their creativity and how the band utilized effects such as "Auto-Tune" in their live performances.
The band also used the time during the encore
to acknowledge the importance of this show, L.A.'s impact on Yoshiki and of the never-ending legacy of their late guitar player - hide. At the close of the show, Toshi and Yoshiki led the "We Are!" cry and the devoted fans responded with the passion their response of "X" in response to seeing their favorite band. It is noteworthy that the band took great pains and preparations
(i.e. extra financial considerations)
to provide their fans an extended encore section to meet the needs of their devoted followers.
In the past, Yoshiki has asked "So why can't we have different dimension in the music?" Given their past demonstrated abilities and their goal(s) to incorporate current rock segments performed that have become staples of recent tours of many high-profiled rock/speed metal/thrash bands - the band might have missed an excellent opportunity (along with disappointing some fans) of displaying a different dimension in their music that would have been on display within in an acoustic "Unplugged" section of their performance. The band has successfully done this in the past. Even an intimate "bar performance" segment devoid of any lighting distractions midway through their performance - that has been done by large American stadium bands such as The Rolling Stones and Aerosmith - would have highlighted their respective musical skills that might have been hidden and/or unknown. These musical journeys could have elevated their reputations of musicians with amazing technical skills on their respective instruments while further separating themselves from other Japanese/Asian rock bands while continuing the trail-blazing paths of pioneering rockers such as Cui Jian.
X Japan's concert at the Wiltern Theater is part of the strongest attempt by a Japanese band to capture the American audience ever, that included a X Japan appearance at Lollapalooza and a new album almost entirely in English. It will be interesting to see the results of the tour after X Japan completes their tour stops at Seattle's Paramount Theatre (8:00PM with a capacity of 2,300 people), Toronto's Queen Elizabeth Theatre (12:00AM - for Asian fans and 7:30PM with a seating capacity of 6,200 people), Chicago's Riviera Theatre (8:00PM with a capacity of 2,500 people) and Toronto's Massey Hall in Ryerson University (8:00PM with a capacity of 2,800 people).
How X Japan's communicates Yoshiki's words "My inspiration is that music should be free, no boundaries" and "Music doesn't have to come from one country or two countries. . . It could come from all over the world" could be strategic in deciding if the group will join the ranks of iconic American rock's royalty (past and present) such as White Stripes, Guns and Roses, Slayer, Rage Against the Machine, Led Zeppelin, System of a Down, Clash, Nirvana, AC/DC, Radiohead, Black Sabbath, The Who, Megadeath, Anthrax, Queen, Mettalica and many others. Will X Japan will have a distinctive musical voice and rock anthems that will resonate in today's highly diverse rock scene to American audiences? It will be fascinating to see what other styles Yoshiki (along with the other band members) will bring from a person whose interests include David Bowie and KISS with influences from Queen (via working with Roger Taylor) and George Martin.
| | |
| --- | --- |
| | |
| | |
- end -