WHEN CHICAGO NATIVE AND DEPAUL UNIVERSITY GRADUATE
(presently based in Astoria, Queens) Jon Irabagon won the 2008 Thelonious Monk competition at Kodak Theater, he started his journey to be in jazz heaven. The opportunity was provided when judges Wayne Shorter, Jimmy Heath, Greg Osby, Jane Ira Bloom, and David Sanchez awarded him the Grand Prize at the 21st annual Thelonious Monk International Jazz Competition its $20,000 first place prize and a contract with Concord Records at the Thelonious Monk Jazz Competition - the most prestigious honor available to a young jazz musician. Finishing in second place was
Tim Green,
of Baltimore, Md.;
Quamon Fowler,
of Fort Worth, Texas, was third.
HIS "STARWAY TO (JAZZ) HEAVEN" included his verson of "Smoke Gets In Your Eyes" provided evidence of his creative maturity by utilizing a rarely used musical quality and grasp of all innovative options not typically known to young and upcoming artists - silence, while not losing the essence of the song's melody. Iragon's performance with Dee Dee Bridgewater in "Just Friends" was highlighted by the "call and response" between the two artists. The number illuminated his knowledge and experience in the long-standing tradition of great jazz of "feeding off one another" in creative challenges to uplift one another to greater and surprising levels of improvisational explorations that could only be attain through this journey. The night provided ample evidence that Irabagon's future could bring great satisfaction to listeners from the United States to the Philippines to Asia to Europe and to the entire world.
THE COMPETITION'S HIGH PROFILED JUDGES' DECISION
acknowledged their opinion that Irabagon had distinguished himself from the original twelve semi-finalists in the usage of his high technical skill (that all the contestants had) to display rich and imaginative improvisational explorations. Hopefully this will be another step in his proceeding on the "starway to (jazz) heaven" that started as a member of Mostly Other People Do the Killing and in his first album as a leader - Outright! on Innova with songs like Quorum Call, That Was Then, Groovin" High and on Outright! Theme.
TIM GREEN AND QUAMON FOWLER won 2nd and 3rd places while soliciting opinions from many within the audience of who was the best - along with which performances were the most riveting when the three finalists were performing on the final night of competition. Green and Fowler displayed many qualities and reasons why they will have long and creative careers. Their abilities and performances that reaches beyond boundaries between genres and generations will provide them excellent opportunities to join the many Monk finalists who have moved on to successful careers, despite their 2nd or 3rd place finishes. It will be fascinating to watch their (Iragagon, Green and Fowler) respective journeys and creative explorations through the years.
THE ACHIEVEMENTS AND SUCCESS
during this competition is especially noteworthy considering its many demands. It started on Saturday afternoon where the semi-finals was staged at UCLA's 500 seat Schoenberg Hall where each of the 12 finalists played three numbers that covered a wide range of styles while being supported by pianist Geoffrey Keezer, bassist Rodney Whitaker and drummer Carl Allen. The diversity from the contestants that from throughout the world (Gian Tornatore from Sacramento; Evan Schwam and David DeJesus from New York City; Gilad Ronen from Israel; Jon Irabagon from Chicago; Troy Roberts from Australia; Joris Roelofs from France; Walter Smith and Quamon Fowler from Texas; Jason Marshall and Tim Green from Maryland and Alex Hoffman from Washington, D.C.) provided a rewarding experience knowing of the influences of great jazz can be heard anywhere.
THE FUND-RAISING PROGRAM also included awarding Sherrise Rogers winning the award composition with her "Transitions" that was performed by members of the CSU Northridge Jazz Band - along with special awards to B.B. King (Founder's Award) and businessman Paul D. Allen (Herbie Hancock Humanitarian Award - who couldn't make the event, but had Bono and Edge accept the award on his behalf), as well as a gala performance reaching from sets by young Monk Institute-supported high school jazzers and from the Institute's band at Loyola University in New Orleans (the inaugural seven fellows that include Gordon Au, Joseph Johnson, Johnaye Kendrick, David Mooney, Vadim Neselovskyi, Jake Saslow, and Colin Stranahan that are part of the Institute's postgraduate training program headed by the trumpeter Terence Blanchard) to a stellar line up of jazz, blues and pop artists that was started by a performance by Poncho Sanchez's Afro Blue that started the worldwide journey of the night. Billy Dee Williams, Quincy Jones, Don Cheadle, Herbie Hancock and Monk Jr. served as emcees for the night.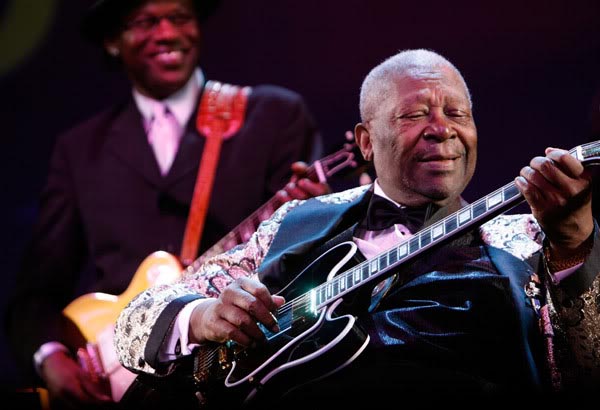 WITH THE PROGRAM'S TITLE being "The Blues and Jazz: Two American Classics" - B.B. King, Keb' Mo,' Joe Louis Walker and Robert Cray's performances (along the high-profiled participation of Bono and Edge) assured that the blues were well represented and appreciated. Other musical tributes to B.B. King (who performed When Love Comes to Town) and the blues included Walkin' Blues with Keb' Mo, Sweet Home Chicago with Joe Louis Walker and Bright Lights, Big City.
AN ALL-STAR ENSEMBLE played "Straight No Chaser," that was lead by the great George Duke, combined the talents of Dee Dee Bridgewater, Terence Blanchard, Jimmy Heath, Terri Lyne Carrington, John Patitucci, Poncho Sanchez and Lee Ritenour to provide a memorable performance. During the course of the evening - the talents of Cassandra Wilson, Kevin Eubanks, Wayne Shorter and Herbie Hancock (who performed Jimi Hendrix's Red River that showed the connections between rock, blues and jazz - while continuing Hendrix's influences that was also shared by honoree Paul Allen) provided additional ample evidence of great jazz artistry. The event's obligatory "all-join-in" number featured a long version of "Let the Good Times Roll" that will be remembered for the enthisiastic and energetic participation of all the great artists.
THE EVENT'S MESSAGE, however, should be remembered and support - continuing the valuable work of the Monk Institute in supporting and sustaining the music that is America's most significant cultural achievement and legacy. In 2008, the Institution's acknowledgement helped Jon Iragabon one gigantic and strategic step up his "Stairway to (Jazz) Heaven"

- end -