INTERVIEW WITH HIROMI
"I wanted to bring what Jackie [Chan] does in Kung Fu
to what I do on piano." (Hiromi)
"Her music, together with her overwhelming charm and spirit,
causes her to soar to unimaginable musical heights." (Ahmad Jamal)


BACKGROUND
US ASIANS: When did you noticed that you were described as a child prodigy and did this create any additional pleasured or privileges in getting access to various things/people?
HIROMI: I have never really noticed, so it did not create much.

US ASIANS: Was the attendance to practicing and taking piano lessons prompted by your parents – in addition, did you rebelled against the needed practice that was required as a child?
HIROMI: My mother took me to piano lessons, I always loved playing piano, so it was not too hard to practice apart from playing Hannon.

US ASIANS: Within the Yamaha School of Music program at Shizuoka – where you attended from the age 5 to 15, could you share what tangible/intrinsic/emotional input that you experienced/taught that still resonates within your creative soul (as a supplement to your private piano lessons) – even today?
HIROMI: I mainly studied composition in Yamaha music school, I was studying piano with my private teacher, she was very unique. She often told me to see colors when I play, when she wanted me to play passionate, she asked me to "PLAY RED", when she wanted me to play melancholic, she asked me to "PLAY BLUE", she even colored my sheet music with color pencils, and it really made kid's imagination to develop.

US ASIANS: What are the guidelines, teachings and/or foundations that has allowed you (as a musician and as a person) to remain humble while being thankful of people who have supported you?
HIROMI: It is just natural behavior, I am standing here right now because of so many people's support.
CREATIVE & MUSIC BACKGROUND
US ASIANS: Did your first piano teacher's energy and emotionalism continually perpetuate your creative soul via osmosis in your playing?
HIROMI: Yes, she always told me to play from heart to heart, not from fingers to brain.

US ASIANS: At 14, your appearance in Czechoslovakia to play with the Czech Philharmonic must have been a memorable experience, could you share how this came about and what images do you still carry with you from that performance?
HIROMI: It was a day around the time that Czech and Slovakia decided to get separated, I have a strong impression that I was there in very big historical change, and of course playing with such an amazing orchestra was a pure joy.

US ASIANS: Did the discipline of writing commercials (i.e. Nissan and others) provide invaluable experience, skills and background in writing music before arriving at Berklee College of Music in Boston?
HIROMI: Writing jingles are like scoring a short-film. Nissan commercial was fun, it was starred by Rowan Atkinson (Mr.Bean), and I really had to make the music comical, I often see visuals when I write music anyway, so it was very natural to me to score.

US ASIANS: How did you enter this highly competitive world of "jingles" and what companies did you create music for?
HIROMI: Boss of one of the top jingle company in Japan happened to see my live performance, and he really liked my music, that's how I got the gig, I did jingles for Nissan, Rover Japan, Kao (cosmetics), Taisho-seiyaku (medicine), etc.

US ASIANS: Did these experiences in writing jingles prompted/motivated your interest in orchestration?
HIROMI: Definitely yes, it was my first chance to record a full orchestra, I was always interested in orchestral work, but conducting a full orchestra was such a thrill, like piloting a huge boat.

MY MUSIC IS
"JUST THE UNION OF WHAT I LOVE
AND FEEL PASSIONATE ABOUT."
(Hiromi)

DIVERSITY
US ASIANS: Considering Asia's ability to produce technically perfect musicians in droves, why are only a small number are viewed as gifted interpreters or composers – such as yourself and why do you think this is so of artists from Asia?
HIROMI: I think main reason to it is because classical music is from Europe and jazz music is from US, even though I am doing my OWN music, I studied music from different cultures and history. It is like some Americans doing Sumo or Kabuki, we really need to understand a deep and traditional part of it to be able to explore something new.

US ASIANS: What experiences, skills, gifts and/or background allowed you the ability to be an intuitive creative force?
HIROMI: Passion for music, and curiosity. It is just like climbing mountains, there is always a new and exciting view whenever you climb higher, and I cannot wait for the next view, so I make step by step every day.

US ASIANS: In acknowledgement of your adventurous spirit that led to be part of the "third type" of Japanese nationals who made up 10% of the Berklee's student body (according to Gary Burton) that hung out with everybody and anybody – as oppose to the other two groups (Japanese students that only hung out with themselves or the Japanese students that only hung out with Americans/non-Japanese) – what were your experiences in adapting to another culture/language/mindset/climate-weather/musical challenges/teaching styles?
HIROMI: I am here to experience another culture, so I am up for it, I am always full of curiosity, that tells everything, I guess.

ENCOUNTERS WITH JAZZ
US ASIANS: Through your first piano teacher, what aspect(s) of jazz that she had shared with you that nurtured/created a musical curiosity with jazz?
HIROMI: She loved jazz music, so she had me listen to so many jazz Lps, my favorite was Errol Garner and Oscar Peterson at that time.

US ASIANS: How did your first piano teacher successfully incorporate jazz and classical together – along with the principals of improvising (not something that is done within traditional classical music), since many people see these as two separate disciplines that cannot be creatively integrated together?
HIROMI: I was falling asleep doing a technical classical exercise such as Hannon, and she asked me to make it swing, then my eyes started to shine, and I started to put some jazzy chords to it, and I started to improvise on Mozart, Chopin, etc.

LIFE AT BERKLEE
US ASIANS: What events confirmed that the timing was right for you to come to the U.S. attend Berklee School of Music?
HIROMI: I just felt that I had to come to US, the center of entertainment.

US ASIANS: What were the deciding factors in attending Berklee School of Music, as oppose to other well-established and prominent schools of music such as North Texas State, University of Southern California, Dick Grove School of Music, Musicians Institute, private instructors (i.e. in composition, technique, orchestration, arranging and/or other musical disciplines) etc.?
HIROMI: I was interested in Berklee because it was not only jazz or classical school, they had jazz musicians, rock musicians, film scorer, classical composers, many different students who has different interests in different field, and that was what I was looking for.

US ASIANS: Could you share what was the most important aspects/elements/perceptions/etc. of music that you learned in Berklee, as oppose to being in Japan?
HIROMI: Meeting many highly talented and focused musicians, and playing with them nightly.

US ASIANS: Which jazz LPs (in addition to the Errol Garner album that you heard at the age of 8) of your first piano teacher that solicited a resonating response that still exists to this day?
HIROMI: We get requests/ Oscar Peterson

US ASIANS: With your understanding that jazz came from the U.S., did you do a lot of research upon discover jazz?
HIROMI: I just listened a bunch of CDs, listening is the best way to study and research, I think.

US ASIANS: Your chance meeting with Chick Corea must have lit up the creative juices within you, do you remember what pieces that you performed together – could they been some of the compositions that Chick had already written (i.e. Spain, etc.) that you previously studied?
HIROMI: It was an Improvisation.

US ASIANS: Jazz's "Pure Freedom" is something that you are passionate about, does this mean going beyond traditional formats (AABA variations, traditional chord progressions – II V I, etc.) to open formats performed by Ornette Coleman ("Double Quartet" CD), John Cage, Unsuk Chin, Don Ellis and others?
HIROMI: It means I don't even name my music "Jazz." I don't mind how it is called, music is music, I am creating something I feel great and passionate about, and I hope listeners can feel the same.

CREATIVE INFLUENCES
US ASIANS: With Ahmad Jamal one of your closest mentors, how has he nurtured your restless search for new ideas and sound, sense of romanticism and ability to successfully execute your creative expressions?
HIROMI: What I learned from Ahmad is the following. Never be satisfied with where you are at, and have the attitude of trying to explore something new always.

US ASIANS: With your list of influences including Bach, Oscar Peterson, Franz Liszt, Ahmad Jamal, Sly and the Family Stone, Dream Theatre, King Crimson, etc. – what do these artists have in common?
HIROMI: ORIGINALITY, they are one and only.
2006 PLAYBOY JAZZ FESTIVAL

The iconic Playboy Jazz Festival, a decades-old tradition started in 1959 by magazine impresario Hugh M. Hefner, once again gathers masters of jazz, blues and world sounds for a musical weekend without equal at the historic Hollywood Bowl.

This year's longtime MC and comic legend Bill Cosby returns to preside over a slate of jazz giants and other musical virtuosos.

Saturday will feature the Stanley Clarke/George Duke Project, a collaborative effort between a brilliant bass player and a piano and production genius, respectively. Contemporary saxophonist and respected bandleader Branford Marsalis and his Quartet, melodic British crooner Jamie Cullum and Senegalese music legend Baaba Maal complete the first day's multifarious lineup.

On Sunday: the fiery rhythms of Eddie Palmieri's Afro-Caribbean Jazz All-Stars, Ozomatli's fusion of hip-hop and Latin grooves and a star-studded tribute to the music of Grover Washington Jr. A special set with Elvis Costello and the Impostors and pianist Allen Toussaint, part of their River in Reverse tour, will feature reworked Toussaint classics and songs first performed by the group in November for a Hurricane Katrina benefit. Also featured will be a performance by pianist McCoy Tyner -- a member of John Coltrane's famous quartet and a masterful player in his own right -- his trio and the storied Lula Washington Dance Theatre.
Click HERE or the pictures listed below for more information.
US ASIANS: Considering your admiration in the many ways Jackie Chan improvises in creating his movies, what aspects that you have seen been incorporated within your musical explorations?
HIROMI: Focus, continuous training, and love and passion for what you do, more you practice, more you can fly.

Hiromi will performing at the 28th Annual Playboy Jazz Festival at the Hollywood Bowl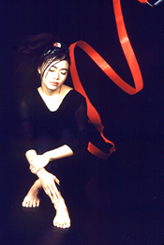 US ASIANS: What events led to your group being the opening act to Oscar Petersen, could you share what personal/business/creative words of advice that have been incorporated within your musically curious soul – did you have a chance to play/perform with him?
HIROMI: I did not have a chance to perform with him, but he told me to "KEEP DOING WHAT I AM BELIEVING IN".
He has been a big inspiration to me for long long time.

US ASIANS: Considering your words that your music is "just the union of what I've been listening to and what I've been learning (i.e. classical music, metal, rock, jazz, etc.)" - what music is presently being played in your CD player/iPod/MP3 player, etc.?
HIROMI: My music is "just the union of what I love and feel passion about". In my CD player now, I have Stevie Wonder's "Time 2 love."

US ASIANS: Will one hear the influences of Japanese jazz musicians such as Yosuke Yamashita, Toshiko Akiyoshi, Sadao Watanabe and others in your music – if so, could you elaborate?
HIROMI: I deeply respect Toshiko Akiyoshi, she has opened a door for all Japanese people to come to US, her courage to come to US 50 years ago is unbelievable, and she is very deep and strong.

US ASIANS: Within your creative background, what creative adventures were discovered through working with Akiko Yano (Yano Akiko / Akiko Suzuki or Suzuki Akiko) whose music has been described playful, cerebral, intense, heartfelt, melodic, ornate, disarmingly simple and filled with various forms/colors that has fused moody new wave, traditional jazz ballads, straight-ahead pop and singer-songwriter
HIROMI: She is one very unique voice, one and only. I deeply respect her musical intuitions, and I learn a lot working with her.

US ASIANS: Recognizing your love of guitarists and guitars as instruments, could you share which players that you admire?
HIROMI: Frank Zappa, Jeff Beck, Robert Fripp.

CREATIVE GUIDELINES
US ASIANS: Upon entering temporary "writing blocks" – do you still continue your process of writing every single day; along with how do you discern what ideas are good or bad?
HIROMI: It is like keeping a journal, I always write what I feel honestly. The timing when I really feel like writing is when my heart was moved big time.

US ASIANS: Playing your "Three-Piece Orchestral Music" within the "Three-Piece-Orchestra" format – could you share the general guidelines utilized to integrate contrapuntal and melodic counterpoint with polyrhythmic patterns within your various instrumentations based on your compositions to get what you "hear?"
HIROMI: I don't think that difficult, I am just playing with piano, and I love the rhythm I just played, and it happened to be polyrhythmic or odd meter, that's how it goes.


PARTING WORDS OF THANKS
US ASIANS: We, at US Asians, wanted to thank you for taking the time and attention to provide a brief glimpse of the passions behind your artistry. We, along with your fast-growing legions of fans, look forward to hearing you perform during your many tours and at prominent events such as the above-listed 28th Annual Playboy Jazz Festival on June 17, 2006 - on the same day with other great musicians such as Stanley Clarke/George Duke Project, contemporary saxophonist Branford Marsalis and his Quartet, melodic British crooner Jamie Cullum and Senegalese music legend Baaba Maal.

Flying Fingers of Talent Seeking a Definitive Vision

Hiromi, at the 2006 edition of the Playboy Jazz Festival, demonstrated that she has the talent, skills and desire to be an artist worth following in the near future. Audiences witnessed in the following acts (she was one of the very first acts to perform that day) some of the directions that she is headed in.




Any questions regarding the content, contact Asian American Artistry
Site design by Asian American Artistry
Copyright © 1996-2006 - Asian American Artistry - All Rights Reserved.