Q: PERFORMING IN JAPAN
After my early studies with Miss Wolf, she took me at age 6 to work with HER teacher, the Filipino pianist Reynaldo Reyes. He is rather a historic figure in his own country, probably the first Filipino to achieve significant success in the classical music field. After studies at the Paris Conservatoire and amassing an impressive dossier of competition prizes, Mr. Reyes accepted a teaching position at Towson University in Maryland. It always seemed a curious place of employment for such a talented man, but years later I realized that the modest salary he earned there was rather a fortune when translated into Filipino dollars. And Reynaldo provided for his parents, many brothers and sisters, and cousins back in Manila with that salary.
Anyway, I look backwards to my years of study with Reynaldo -- ca. 1966 to 1976 when I left for college -- as the time when I became infatuated with Asia. In the middle of very long lessons at his Towson studio, the phone would ring and Reynaldo would answer. Sometimes he spoke English, sometimes French, Italian, German, Greek or Tagalog. And it simply mesmerized me how he seemed so comfortable in any and all cultures, with his gifts and power at language as the key. Naturally the Tagalog was the most intriguing to me. It still just sounds like "agol-gola-ulong-balang-telaga" to my ears (having travelled there twice); but the whole exoticism of that sound -- not to mention the beautiful pictures on his studio walls, his charming brothers and sisters who would drop by from time to time, and Reynaldo's own vivid descriptions of Japan, Korea, China and other places so far away in distance and culture -- made me very hungry for travelling to that part of the world.
Japan is a place that grabs you, if you are of a certain persuasion to be grabbed. I have tried to analyze my gut love for the country but never really succeeded. There are so many things to delight in there: the food, the intriguing language, the unique art forms, the beautiful temples and countryside, the electrifying cities, pachinko, trains that run to the nanosecond on time, the cleanest bathrooms in the world, anime, amazing films, TV samurai nonsense, sumo, etc. etc. etc. An astounding place, to be sure. But over all, I think what I love most about Japan is its people and their pride in what they do. From the owner of the Hanshin Tigers to the woman who scrubs the steps of the post office, there is an emphasis on precision, thoroughness, politeness and professionalism that is simply unmatched anywhere else in the world. In the United States I often have to explain to people that, yes, I do play music for a living, not a hobby; and that teaching is not something I'm just doing for a while until I get a REAL job (yes, this has actually been said to me from time to time). In Japan, when I am introduced as a musician, heads are bowed. When the fact of my being a University Professor is added, heads bow even lower. I don't need adulation, but I sure appreciate respect for a lifetime of hard work and artistic achievement. I don't know if all my Japanese audience members understand the intricacies of pianistic phrasing, but they sure do get the fact that I've worked a lifetime to get good at what I do, and they appreciate it. Just as I appreciate a country that understands a commitment to excellence.
Some years ago I decided to study Japanese seriously. There was a point at which I feared I would be completely unable to find sustainable work in the United States, and it seemed the right time to prepare for a wholesale move abroad. It very nearly came to pass, and in fact of course I did leave New York City for Canada. Fortunately I didn't have to move full-time to Japan. My Japanese is not, as you think, fluent. I think it will never ever be fluent -- it's too difficult for my limited study time and skills. But I can handle myself teaching a piano lesson in Osaka, and my spouse Kayoko fills in my holes, so I feel at home there. I'm jotting these notes off to you from her mother's house in Osaka, where I'm spending the bulk of my sabbatical in 2009-10.
Q: PIANO COMPETITIONS
I did not enjoy entering piano competitions in my twenties though they were a necessary evil for me, and remain so for most young pianists seeking to establish themselves. I cannot in all fairness say that any of them, including the Tchaikowsky Competition in Moscow, brought me great fame or fortune. Rather the accumulated prizes served as a kind of endorsement on my resume, so that when I began to perform concerts professionally, concert presentors and promoters could feel certain that I would "deliver the goods."
Q: YAMAHA
Of the twelve finalists in the 1986 Tchaikowsky Competition, I was the only pianist to play Yamaha; the rest played Steinway. I didn't do that simply to be "different." I genuinely like the Yamaha piano, with its bright and wondrous sound, and fantastic keyboard action. It enables me to go about my work and make the colors I need to make, with ease. After the competition, I was invited on my first tour of Japan by the Yamaha Corporation, after which I asked to become an official Yamaha artist (one of the first in North America, along with some distinguished company like Glenn Gould and Sviatoslav Richter). Along with that honor came the possibility of recording on their Disklavier system, and I enjoyed doing that in their Buena Park (near Anaheim, California) studios.
Q: MEDIA
I am often asked for interviews, about equally on music and gender issues. There's no question that paramount among major media is the New York Times. It's a local paper in New York City, but so much more. It is printed worldwide and available on newsstands everywhere, and of course now on the internet. Twice in my life, in 1998, and again recently, I was the subject of extensive profiles in the NY Times. After both pieces, I was just inundated with mail, e-mail, phone calls, and more interview requests, all over the world. The New York Times remains the "paper of record," as they say, and some words printed there have enormous implications.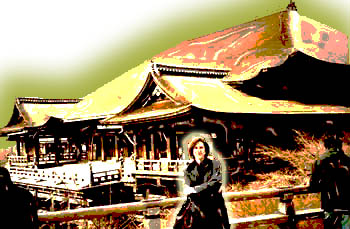 Q: SOMETHING PEOPLE ARE NOT AWARE OF
I was born in the Chinese Year of the Pig (1959). Without knowing that as a child, I was always from earliest memory quite infatuated with pigs. I drew them as cartoons and still do so today. I can't explain why I love pigs so -- it just is. Perhaps I was a pig in a former life (I do believe in reincarnation, by the way).
A few years ago I played a series of piano recitals in the American midwest -- Minnesota, Iowa, Kansas. In the tiny town of Forest City, Iowa, I played a recital at Waldorf College. When I arrived by bus in the town, a sweet Grandma type picked me up to take me to my hotel. She asked if there was anything special I would like to do in Forest City. I said to her: "Well, I know that Iowa is the state of pigs. And I was born in the Year of the Pig. I would like to see a pig farm, if possible." Long silence. Finally she replied. "Well, as a mattuh of fact, mah bruthuh is a pig fahmah. And I shorely could take you theah. But it's just... well... none of ouh ahtists ain't never asked to go SEE 'em befoah." Well, the very next day I was taken to her brother's pig farm and had the honor of standing in a large shed with about 300 pigs of various sizes. They enjoy being scratched behind the ears, by the way, and are terribly friendly. They also create an extraordinary smell en masse which permeates all clothing. I had to throw out what I wore that day.
Q: FINAL THREE WORDS
Great question! Possibly an invitation to hubris, but here goes...
My Journey... Difficult, Fortunate, Unique
My Future... Optimistic, Exciting, Romantic
A Yamaha Grand Piano... Shiny, Bright, Yasashii (Sweet)
Mozart's "Too Many Notes"... Not Enough Notes!
Film Music... Entrancing, Storytelling, Rich
Today's "Classical Music"... Bracing, Young, Challenging
My Legacy... Dedication, Sincerity, Love
- end -